No matter how grounded you are in your own personal growth, you are undoubtedly dealing with some #covid crazy hardship that is proving extremely challenging and trying. We're in sort of a collective "shit hitting the fan" moment in history, no? So what is an evolved spirit to do when things beyond your control knock you flat on your ass; When you lose a job, fear contracting a gnarly virus, process a divorce, deal with a lawsuit or some other seriously effed up event?
I mean… the easiest route is victimhood… to bitch and complain, but at some point we get to a point where we can clearly see that isn't working. So, how do you acknowledge the pain you're going through and at the same time, find some relief? And, what on earth are you supposed to do if you feel helpless, out of control, and super alone? Don't worry… I gottchu.
In this episode, I dig into how to stay grounded and positive during a really, rough life event… Like, #TheRona You'll learn 8 tangible (and pretty easy to implement) tools you can immediately use to shift your perspective around your current set of circumstances.
This pod explores:
How your chosen perspective completely dictates your reality
Why an attitude of gratitude may NOT be first on the list
Details on an awesome "no complaining" challenge
Where to look for inspiration when you are down in the fuckin' dumps
______
NEW *FREE* HYPNOSIS MEDITATION ON FEAR + ANXIETY
READY TO RELEASE THAT PENT UP ANXIETY AND FEAR?
OF COURSE, YOU ARE!
I've been hearing that many of you have been battling some seeeerious anxiety due the craziness of recent current events. Anxious AF, amiright!? I feel you. I really do.
I wanted to create a resource to help you cope with the new crop of fears and anxieties that have been poppin' up so I made an awesome hypnosis track for you! And no need to freak out about hypno… It's basically just meditation with a goal. So, you won't be clucking like a chicken or any of that booooshit.
So, clickety-click RIGHT HUURRR or click that image to the right and get your peace on! #yourewelcome
______
NEW *FREE* WORKSHOP
READY TO GET RID OF PERFECTIONISM, SELF-DOUBT, AND OVERWHELM?
OF COURSE, YOU ARE!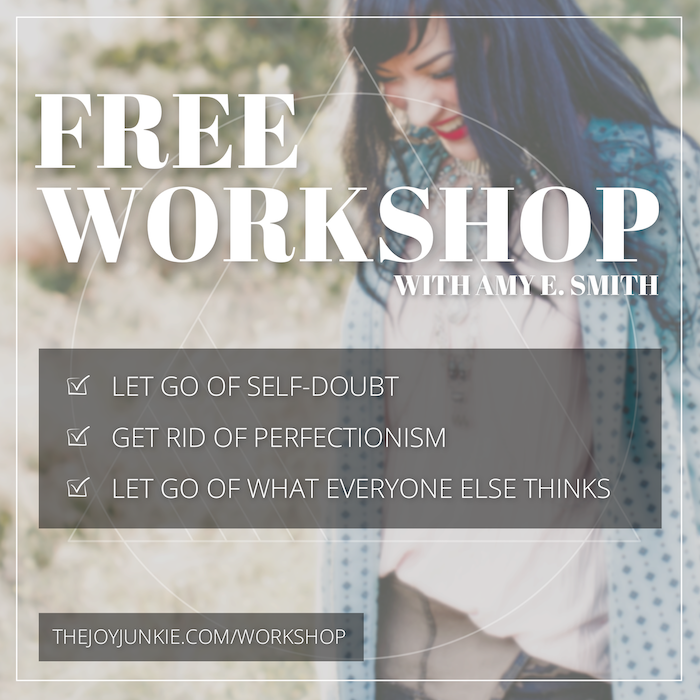 Is this the year you go from a people-pleasing, guilt-tripped perfectionist to a bold and boundaried badass? Um, yeah. I think it is!
If you're DONE feeling overwhelmed, anxious, and stressed out because you're constantly doing, doing, doing for everyone else, then you must grab your seat in this brand-new workshop! You'll learn the exact five-step process I take my clients through so they can let go of all the stress and angst of striving for "perfect" and caring waaaaay too much what everyone else thinks.
It's time to finally believe in yourself, find that self-confidence you crave, and start living your life for YOU. So, clickety-click RIGHT HUURRR or click that image to the right to get on The List! #yourewelcome
______
THE JOY JUNKIE AFTER HOURS CLUB!
COMPLETELY FREE FACEBOOK GROUP. TONS OF SUPPORT YOU CRAVE.
JOIN THE CLUB.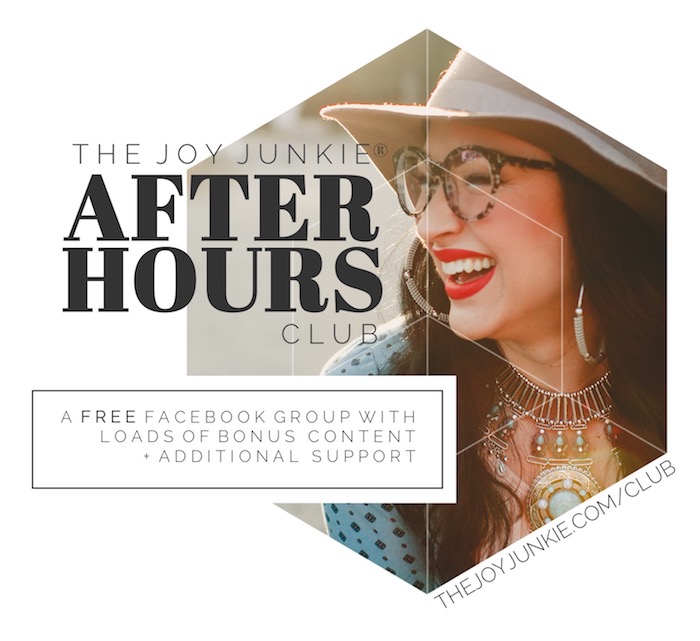 You in on this FREE badassery yet? You are officially invited to my super exclusive/inclusive, [grin] Facebook group, The Joy Junkie After Hours Club!
If you've been diggin' the pod, this group will be an extra dose of support, training vids, discussions, coupon codes, behind the scenes and advice from moi! Plus, it's #totes free and your new soul tribe is waiting for you!
So, clickety-click RIGHT HUURRR or click that image to the right to join the group! #yourewelcome
______
Additional Resources:
______
How to Leave Apple Podcasts Reviews:
Click the "Subscribe on Apple Podcasts" button below or go HERE
Click on blue button that reads "view in Apple Podcasts" which will open the podcast into your personal Apple Podcasts account
Click "Ratings & Reviews" under the show title
Click the star rating of choice and then click the "Write a Review" button
You can also click "Subscribe" under the podcast photo to be automatically notified of new episodes
______
Want to Submit a Show Topic?
Swing by THIS PAGE and let us hear what you would like us to sound off on!
_____________