Well, shit. Can we just start 2020 over? I mean… I was looking forward to some awesome fashions like bowler hats, long-string pearls, feather headbands, and flapper dresses. I sure-as-shit wasn't looking for a world-wide pandemic a la turn of the century. But, alas, here we are. [insert virus emoji]
And, if you are anything like me (and everyone I've been six feet away from), it's likely that you've been battling a myriad of feelings. I'm guessing a bit shit-ton of fear, anxiety, overwhelm, stress, and possibly irritation at all the "here's how we're addressing Corona" emails bombarding your inbox. Same, girl, same.
In this week's show, I break down a list of things you can do to feel more in control and peaceful during this time. And, not on the list? Washing your hands or taking time to soak in a bubble bath. You already know that shit. Get your pen and paper ready to jot down all of the ways you're going to slay this pandemic's ass.
This pod explores:
The number one thing you MUST avoid if you want to stay moderately sane
A killer freebie I made for you that will kick your anxiety to the curb
My favorite tool for curbing the overwhelm
How to give yourself time to relax… like, for reals
______
NEW *FREE* HYPNOSIS MEDITATION ON FEAR + ANXIETY
READY TO RELEASE THAT PENT UP ANXIETY AND FEAR?
OF COURSE, YOU ARE!
I've been hearing that many of you have been battling some seeeerious anxiety due the craziness of recent current events. Anxious AF, amiright!? I feel you. I really do.
I wanted to create a resource to help you cope with the new crop of fears and anxieties that have been poppin' up so I made an awesome hypnosis track for you! And no need to freak out about hypno… It's basically just meditation with a goal. So, you won't be clucking like a chicken or any of that booooshit.
So, clickety-click RIGHT HUURRR or click that image to the right and get your peace on! #yourewelcome
______
NEW *FREE* WORKSHOP
READY TO GET RID OF PERFECTIONISM, SELF-DOUBT, AND OVERWHELM?
OF COURSE, YOU ARE!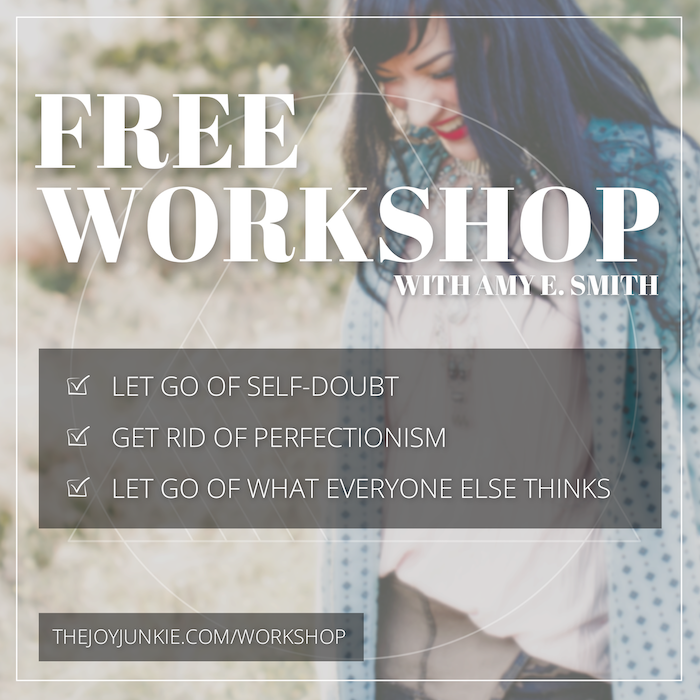 Is this the year you go from a people-pleasing, guilt-tripped perfectionist to a bold and boundaried badass? Um, yeah. I think it is!
If you're DONE feeling overwhelmed, anxious, and stressed out because you're constantly doing, doing, doing for everyone else, then you must grab your seat in this brand-new workshop! You'll learn the exact five-step process I take my clients through so they can let go of all the stress and angst of striving for "perfect" and caring waaaaay too much what everyone else thinks.
It's time to finally believe in yourself, find that self-confidence you crave, and start living your life for YOU. So, clickety-click RIGHT HUURRR or click that image to the right to get on The List! #yourewelcome
______
THE JOY JUNKIE AFTER HOURS CLUB!
COMPLETELY FREE FACEBOOK GROUP. TONS OF SUPPORT YOU CRAVE.
JOIN THE CLUB.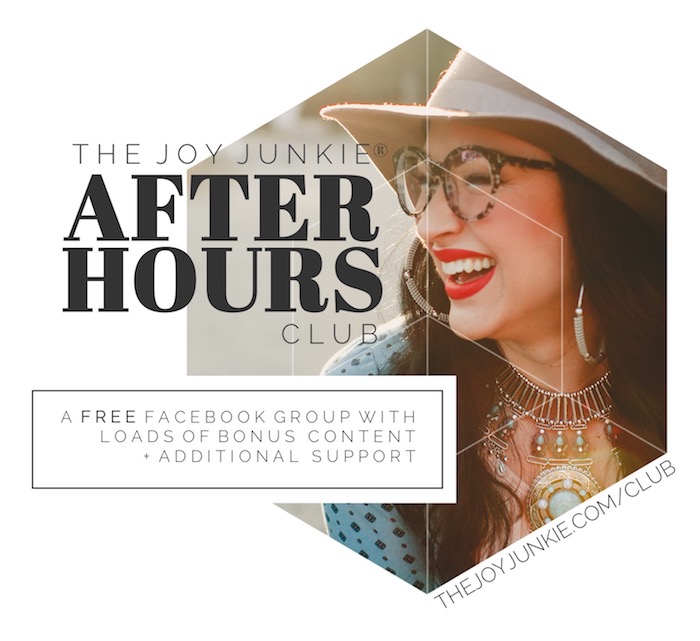 You in on this FREE badassery yet? You are officially invited to my super exclusive/inclusive, [grin] Facebook group, The Joy Junkie After Hours Club!
If you've been diggin' the pod, this group will be an extra dose of support, training vids, discussions, coupon codes, behind the scenes and advice from moi! Plus, it's #totes free and your new soul tribe is waiting for you!
So, clickety-click RIGHT HUURRR or click that image to the right to join the group! #yourewelcome
______
Additional Resources:
______
How to Leave Apple Podcasts Reviews:
Click the "Subscribe on Apple Podcasts" button below or go HERE
Click on blue button that reads "view in Apple Podcasts" which will open the podcast into your personal Apple Podcasts account
Click "Ratings & Reviews" under the show title
Click the star rating of choice and then click the "Write a Review" button
You can also click "Subscribe" under the podcast photo to be automatically notified of new episodes
______
Want to Submit a Show Topic?
Swing by THIS PAGE and let us hear what you would like us to sound off on!
_____________