Recently a pod listener wrote to the show asking how one could actively cultivate optimism… especially if you happen to be a cynic, a skeptic, or tend toward pessimism. If you aren't constantly shitting glitter, it's likely that you've found yourself struggling to find the bright side or seeing that damn glass half full.
I feel you. With the advent of social media, it's damn near impossible to pop online and NOT see something that makes you want to throw your phone/computer/tablet out the window… or at someone else. Not to mention those negative co-workers, family members, and well-meaning friends who seem to always focus on the shit storm in their lives rather than having an attitude of gratitude.
If you find it tough to stay positive and truly want to cultivate some kickass optimism, you won't want to miss this episode. I sound off on nine, super simple tactics you can immediately implement to usher in some killer good vibes. Get ready to throw on those rose colored glasses, because when you stay in a positive mindset, you manifest a shit ton of more positivity in your life. #yesplease
This pod explores:
What steps to take when shit hits the fan and you soooo aren't feelin' the optimism
My favorite challenge to keep your mindset skewed toward the great things in your life
How to use technology to condition an optimistic mindset
How to create daily [and easy] practices that keep you vibin' high
______
NEW *FREE* WORKSHOP
READY TO GET RID OF PERFECTIONISM, SELF-DOUBT, AND OVERWHELM?
OF COURSE, YOU ARE!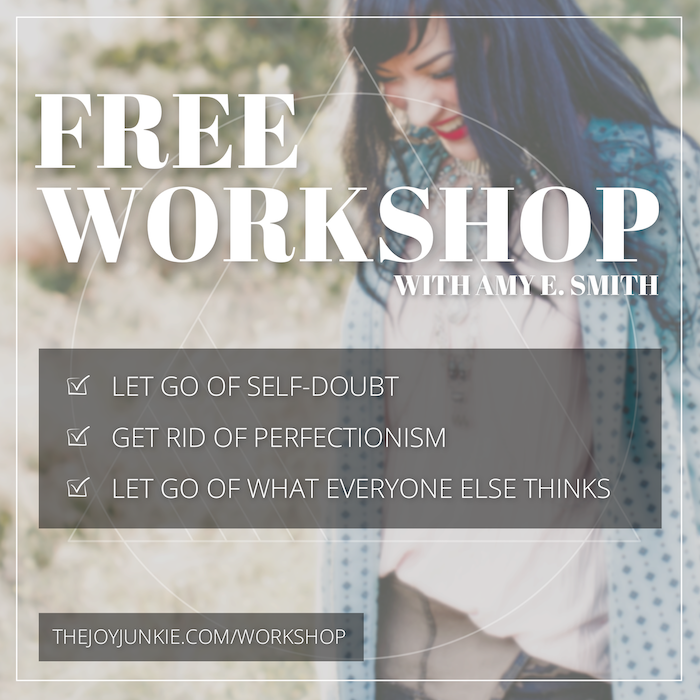 Is this the year you go from a people-pleasing, guilt-tripped perfectionist to a bold and boundaried badass? Um, yeah. I think it is!
If you're DONE feeling overwhelmed, anxious, and stressed out because you're constantly doing, doing, doing for everyone else, then you must grab your seat in this brand-new workshop! You'll learn the exact five-step process I take my clients through so they can let go of all the stress and angst of striving for "perfect" and caring waaaaay too much what everyone else thinks.
It's time to finally believe in yourself, find that self-confidence you crave, and start living your life for YOU. So, clickety-click RIGHT HUURRR or click that image to the right to get on The List! #yourewelcome
______
THE JOY JUNKIE AFTER HOURS CLUB!
COMPLETELY FREE FACEBOOK GROUP. TONS OF SUPPORT YOU CRAVE.
JOIN THE CLUB.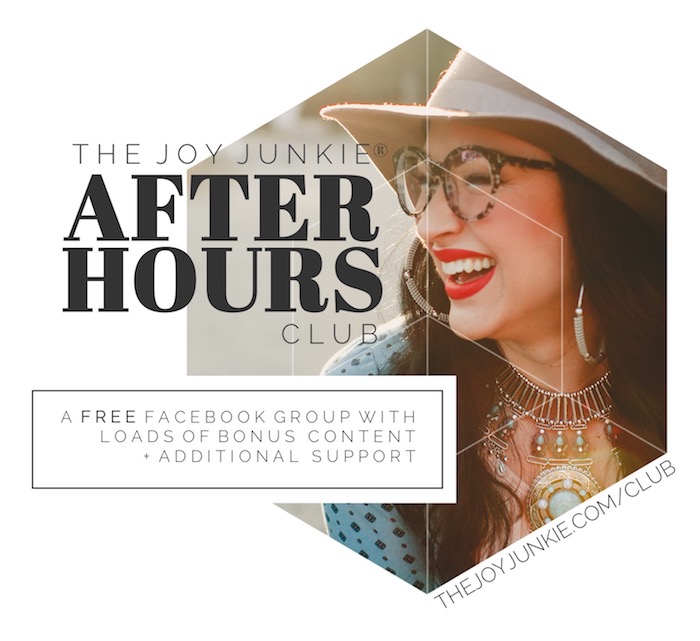 You in on this FREE badassery yet? You are officially invited to my super exclusive/inclusive, [grin] Facebook group, The Joy Junkie After Hours Club!
If you've been diggin' the pod, this group will be an extra dose of support, training vids, discussions, coupon codes, behind the scenes and advice from moi! Plus, it's #totes free and your new soul tribe is waiting for you!
So, clickety-click RIGHT HUURRR or click that image to the right to join the group! #yourewelcome
______
Additional Resources:
______
How to Leave Apple Podcasts Reviews:
Click the "Subscribe on Apple Podcasts" button below or go HERE
Click on blue button that reads "view in Apple Podcasts" which will open the podcast into your personal Apple Podcasts account
Click "Ratings & Reviews" under the show title
Click the star rating of choice and then click the "Write a Review" button
You can also click "Subscribe" under the podcast photo to be automatically notified of new episodes
______
Want to Submit a Show Topic?
Swing by THIS PAGE and let us hear what you would like us to sound off on!
_____________