______
E
ver find yourself desiring deep, rich connections with your partner or your friends and family but have a hellova time letting your guard down? Maybe you even find yourself craving deep intimacy but you're absolutely
terrified
to really "be seen". I mean, isn't it just safer to stay walled up? Well… if the
other 
party was vulnerable
first…
maybe then it would be safe. Maybe. Why is it so damn hard to be vulnerable?
If you've found your mind spinning with the same questions, you are certainly not the exception. Many of us crave rich, soulful connections with our loved ones, but we're absolutely paralyzed by fear of being vulnerable. So we put up massive walls, don't let people in, and then wonder why we don't have intimacy.
In this episode, I dig into the detrimental notions we're inundated with in our culture, how it sends major mixed messages about vulnerability, and why you need to drastically change the narrative if you want to experience intimacy in your relationships. And guess what? You get to take as many baby steps as you need to feel safe. Promise.
This pod explores:
______
NEW *FREE* WORKSHOP
READY TO GET RID OF PERFECTIONISM, SELF-DOUBT, AND OVERWHELM?
OF COURSE, YOU ARE!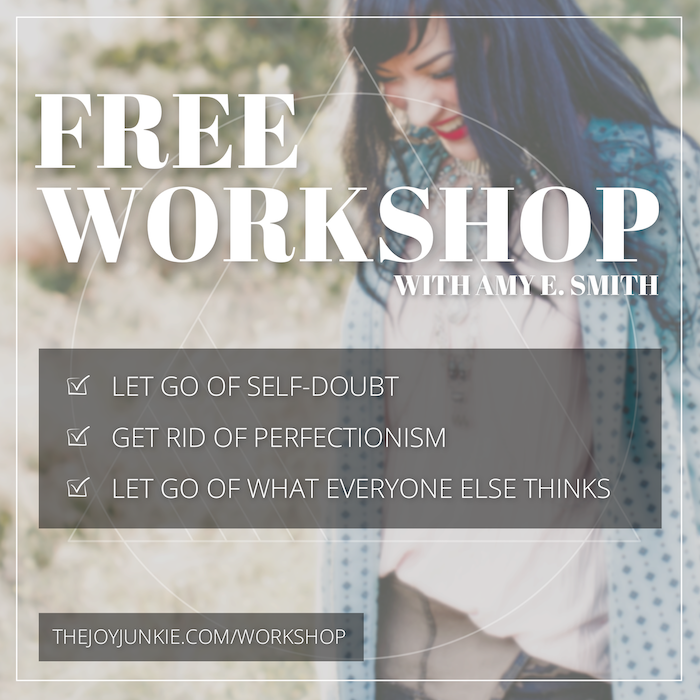 Is this the year you go from a people-pleasing, guilt-tripped perfectionist to a bold and boundaried badass? Um, yeah. I think it is!
If you're DONE feeling overwhelmed, anxious, and stressed out because you're constantly doing, doing, doing for everyone else, then you must grab your seat in this brand-new workshop! You'll learn the exact five-step process I take my clients through so they can let go of all the stress and angst of striving for "perfect" and caring waaaaay too much what everyone else thinks.
It's time to finally believe in yourself, find that self-confidence you crave, and start living your life for YOU. So, clickety-click RIGHT HUURRR or click that image to the right to get on The List! #yourewelcome
______
THE JOY JUNKIE AFTER HOURS CLUB!
COMPLETELY FREE FACEBOOK GROUP. TONS OF SUPPORT YOU CRAVE.
JOIN THE CLUB.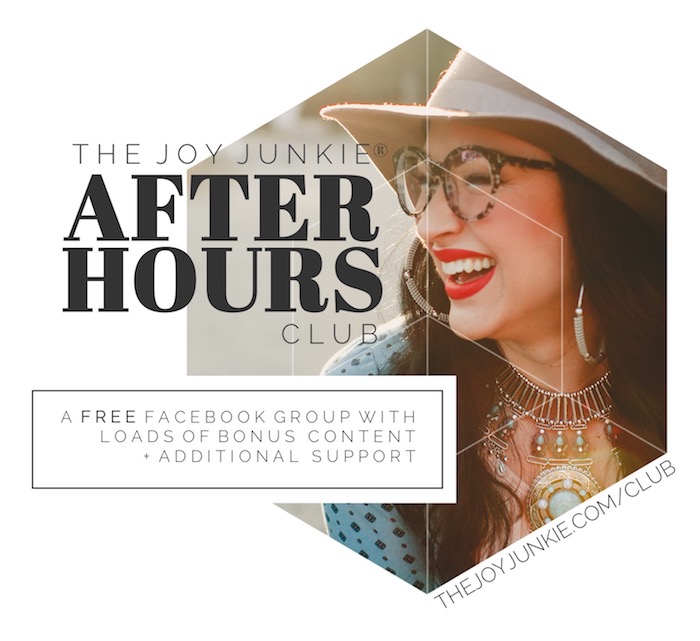 You in on this FREE badassery yet? You are officially invited to my super exclusive/inclusive, [grin] Facebook group, The Joy Junkie After Hours Club!
If you've been diggin' the pod, this group will be an extra dose of support, training vids, discussions, coupon codes, behind the scenes and advice from moi! Plus, it's #totes free and your new soul tribe is waiting for you!
So, clickety-click RIGHT HUURRR or click that image to the right to join the group! #yourewelcome
______
Additional Resources:
______
Comedy Clips:
______
How to Leave Apple Podcasts Reviews:
______
Want to Submit a Show Topic?
Swing by THIS PAGE and let us hear what you would like us to sound off on!
_____