______
W
e've all had those awkward-ass friendship situations… where we aren't totally sure where we stand. Not sure if our friendship has run it's course. Not sure if it's worth reconciliation. Not at all sure where we stand or what the other person is thinking. Or if we should fight for the friendship?
Recently, a listener wrote into the show unsure of how she should deal with a situation where a friend essentially "broke up" with her. I guess the millennials call it "ghosting" – where someone just kinda disappears. No response to your texts, call, insta tags, nothing. Just done-zo. Ghosted your ass.
I think we've all had those situations where we aren't sure where a friendship is headed or if the other person is DONE with us. In this episode, I look at 6 things you CAN do to work through this sticky predicament. Have a listen and find out if you even need to apologize (you may not have to!), how to figure out what stories you're totally making up, and how to focus on the friendships you DO want to attract.
This pod explores:
How to make sure that you don't have regrets no matter how bat-shit cray the situation may be
How to analyze the "stories" you may be making up and how to decipher the TRUTH
How to know if you actually need to apologize or if you need to just walk away
______
THE EVENT MENTIONED IN THIS EPISODE IS NO LONGER AVAILABLE.
BUT, WAIT!
YOU CAN SNAG ALL THE LATEST IN FREE GOODS BY CLICKING HERE.
______
______
NEW *FREE* WORKSHOP
READY TO GET RID OF PERFECTIONISM, SELF-DOUBT, AND OVERWHELM?
OF COURSE, YOU ARE!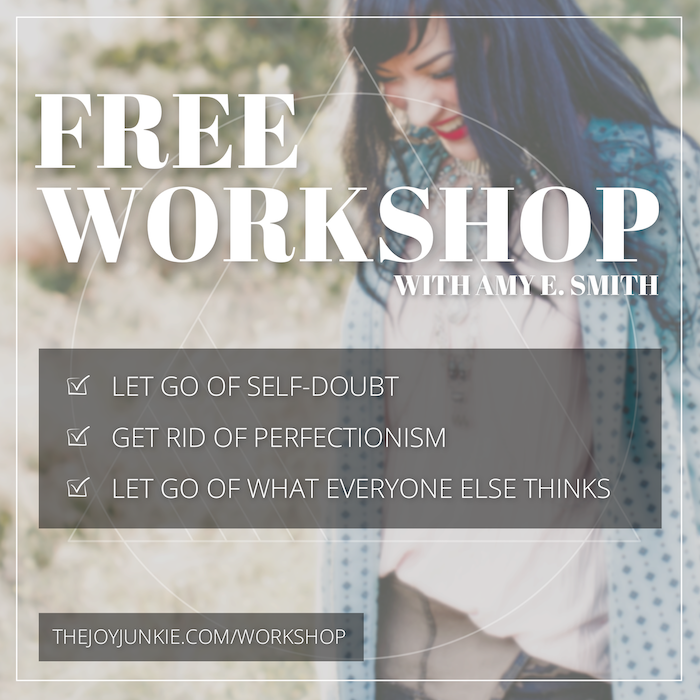 Is this the year you go from a people-pleasing, guilt-tripped perfectionist to a bold and boundaried badass? Um, yeah. I think it is!
If you're DONE feeling overwhelmed, anxious, and stressed out because you're constantly doing, doing, doing for everyone else, then you must grab your seat in this brand-new workshop! You'll learn the exact five-step process I take my clients through so they can let go of all the stress and angst of striving for "perfect" and caring waaaaay too much what everyone else thinks.
It's time to finally believe in yourself, find that self-confidence you crave, and start living your life for YOU. So, clickety-click RIGHT HUURRR or click that image to the right to get on The List! #yourewelcome
______
THE JOY JUNKIE AFTER HOURS CLUB!
COMPLETELY FREE FACEBOOK GROUP. TONS OF SUPPORT YOU CRAVE.
JOIN THE CLUB.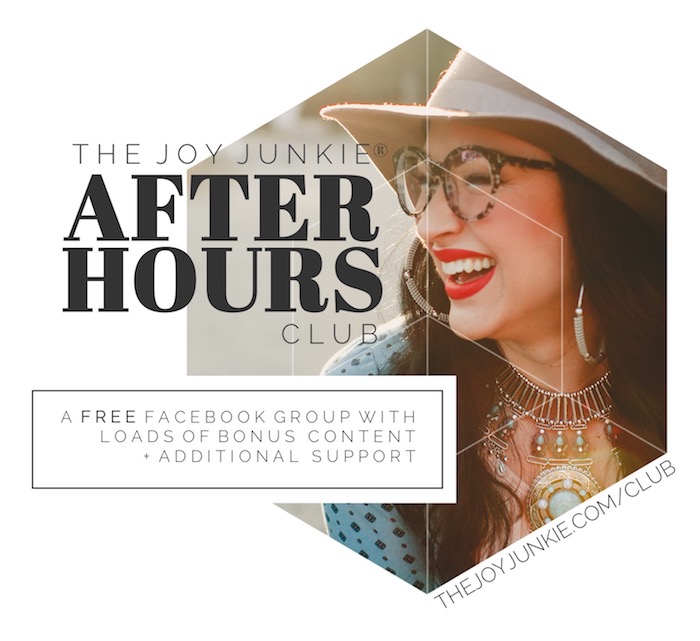 You in on this FREE badassery yet? You are officially invited to my super exclusive/inclusive, [grin] Facebook group, The Joy Junkie After Hours Club!
If you've been diggin' the pod, this group will be an extra dose of support, training vids, discussions, coupon codes, behind the scenes and advice from moi! Plus, it's #totes free and your new soul tribe is waiting for you!
So, clickety-click RIGHT HUURRR or click that image to the right to join the group! #yourewelcome
______
Additional Resources:
______
Comedy Clips:
______
How to Leave Apple Podcasts Reviews:
Click the "Subscribe on Apple Podcasts" button below or go HERE
Click on blue button that reads "view in Apple Podcasts" which will open the podcast into your personal Apple Podcasts account
Click "Ratings & Reviews" under the show title
Click the star rating of choice and then click the "Write a Review" button
You can also click "Subscribe" under the podcast photo to be automatically notified of new episodes
______
Want to Submit a Show Topic?
Swing by THIS PAGE and let us hear what you would like us to sound off on!
_____