Are people-pleasers liars? Is putting yourself first selfish? If you feel you have "let someone down" does that mean the emotion you are feeling is 'guilt'? I'm guessing you have a gut response answer to all of these questions and those answers may be informed by faulty logic. Hear me out…
Most of us grow up hearing that we "shouldn't rock the boat", we shouldn't "open a can of worms", and that we should simply "sweep it under the rug". In my not-so-humble opinion, these are all idoms for "shut the fuck up and suffer in silence". That may be a bit hyperbolic, but seriously though… how often have you felt like you couldn't speak up because it would simply destroy the other person? Better suffer in silence, amiright!?
Unfortunately, when we chronically stifle our voice, we are sending a subconscious message to ourselves that we simply don't matter as much as everyone else. Taking care of the other person's emotions is FAR MORE important than your own. So no wonder you've been struggling with self-worth! HELLO!
In this week's show, I surprise Mr. Smith with a pop quiz, true-or-false-style, to see how much he's learned about people-pleasing over the last seven years. Play along and find out if you are standing up for yourself or if you're letting everyone else dictate your thoughts, actions, and speech. And, not to fear, I spill all the deets on HOW to speak up in the stickiest of situations. Let's do this.
This pod explores:
How being a kind, compassionate person can backfire on you and how to make sure it doesn't
How to decline with grace (especially if it's something you reeeeeally don't want to do)
Why you HAVE GOT TO stop saying "I feel so bad!" or "I feel so guilty!"
Why "selfish" is seriously the new black
______
NEW *FREE* WORKSHOP
READY TO GET RID OF PERFECTIONISM, SELF-DOUBT, AND OVERWHELM?
OF COURSE, YOU ARE!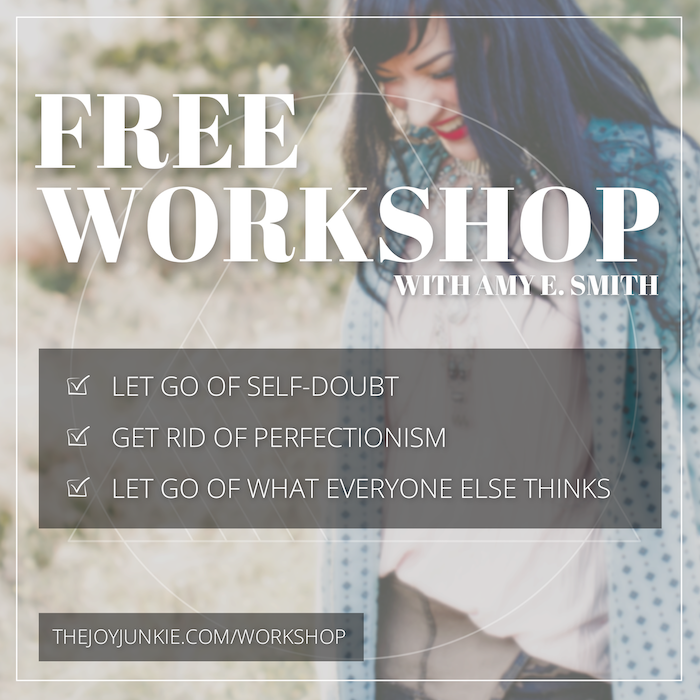 Is this the year you go from a people-pleasing, guilt-tripped perfectionist to a bold and boundaried badass? Um, yeah. I think it is!
If you're DONE feeling overwhelmed, anxious, and stressed out because you're constantly doing, doing, doing for everyone else, then you must grab your seat in this brand-new workshop! You'll learn the exact five-step process I take my clients through so they can let go of all the stress and angst of striving for "perfect" and caring waaaaay too much what everyone else thinks.
It's time to finally believe in yourself, find that self-confidence you crave, and start living your life for YOU. So, clickety-click RIGHT HUURRR or click that image to the right to get on The List! #yourewelcome
______
THE JOY JUNKIE AFTER HOURS CLUB!
COMPLETELY FREE FACEBOOK GROUP. TONS OF SUPPORT YOU CRAVE.
JOIN THE CLUB.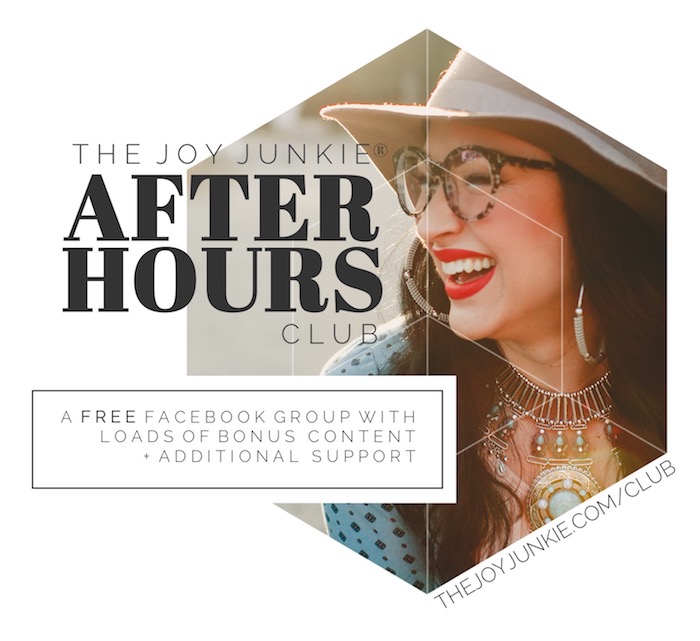 You in on this FREE badassery yet? You are officially invited to my super exclusive/inclusive, [grin] Facebook group, The Joy Junkie After Hours Club!
If you've been diggin' the pod, this group will be an extra dose of support, training vids, discussions, coupon codes, behind the scenes and advice from moi! Plus, it's #totes free and your new soul tribe is waiting for you!
So, clickety-click RIGHT HUURRR or click that image to the right to join the group! #yourewelcome
______
Additional Resources:
______
How to Leave Apple Podcasts Reviews:
Click the "Subscribe on Apple Podcasts" button below or go HERE
Click on blue button that reads "view in Apple Podcasts" which will open the podcast into your personal Apple Podcasts account
Click "Ratings & Reviews" under the show title
Click the star rating of choice and then click the "Write a Review" button
You can also click "Subscribe" under the podcast photo to be automatically notified of new episodes
______
Want to Submit a Show Topic?
Swing by THIS PAGE and let us hear what you would like us to sound off on!
_____________