______
Y
You know that thing where you're trying to act all casual and cool, but secretly you want to micromanage the hell outta an event you're hosting, a project you're working on, your kid, your spouse, your boss, etc.? Guess what, my friend? You're dealing with some control issues. And, listen, the reason I know a thing or two about this shiz is because I've battled this little beast for nearly 40 years. So, I feel you. But, sweet baby Jesus, there is hope. Trust.
The thing about "control" is that sometimes it actually DOES contribute to your happiness. Sometimes it really DOES make things easier, more efficient, and timely and in turn, leaves you feeling powerful and fulfilled. Like, Ninja-Warrior-style. And then there are the other times. The times when trying to control a situation (or person) create massive anxiety, overwhelm, and bitterness.
Have a listen to this episode where I discuss seven steps to figuring out the most powerful role Control can play in your world. It's time to stop trying to control the ex, your mom, or your home. No more angst and frustration. Say hello to surrender and a shit-ton of freedom.
This pod explores:
How to distinguish when controlling a sitch is an awesome idea and when you need to back-the-fuck-off
The secret role Fear plays in the need to control + how to operate from courage instead
How to let go of the "rules" you've unknowingly created so you can feel waaaay more freedom
The best thing you can do instead of trying to control shit out of your control
______
NEW *FREE* WORKSHOP
READY TO GET RID OF PERFECTIONISM, SELF-DOUBT, AND OVERWHELM?
OF COURSE, YOU ARE!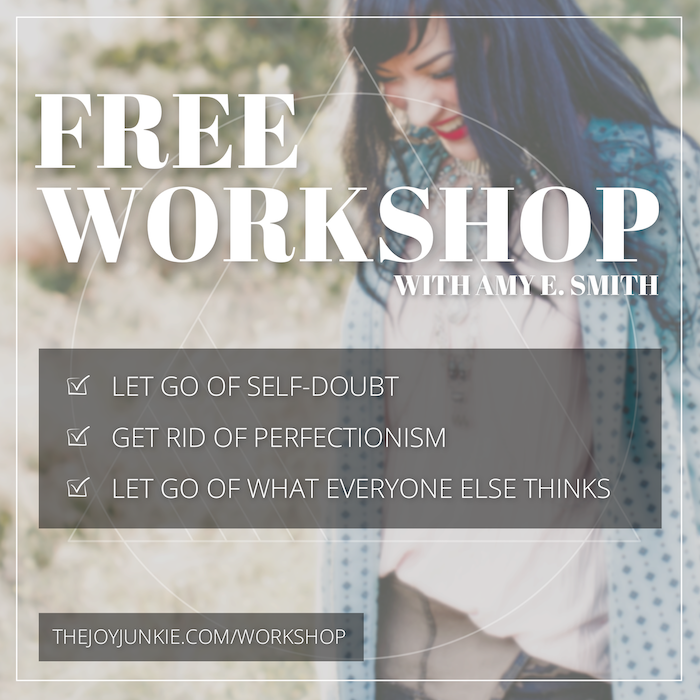 Is this the year you go from a people-pleasing, guilt-tripped perfectionist to a bold and boundaried badass? Um, yeah. I think it is!
If you're DONE feeling overwhelmed, anxious, and stressed out because you're constantly doing, doing, doing for everyone else, then you must grab your seat in this brand-new workshop! You'll learn the exact five-step process I take my clients through so they can let go of all the stress and angst of striving for "perfect" and caring waaaaay too much what everyone else thinks.
It's time to finally believe in yourself, find that self-confidence you crave, and start living your life for YOU. So, clickety-click RIGHT HUURRR or click that image to the right to get on The List! #yourewelcome
______
THE JOY JUNKIE AFTER HOURS CLUB!
COMPLETELY FREE FACEBOOK GROUP. TONS OF SUPPORT YOU CRAVE.
JOIN THE CLUB.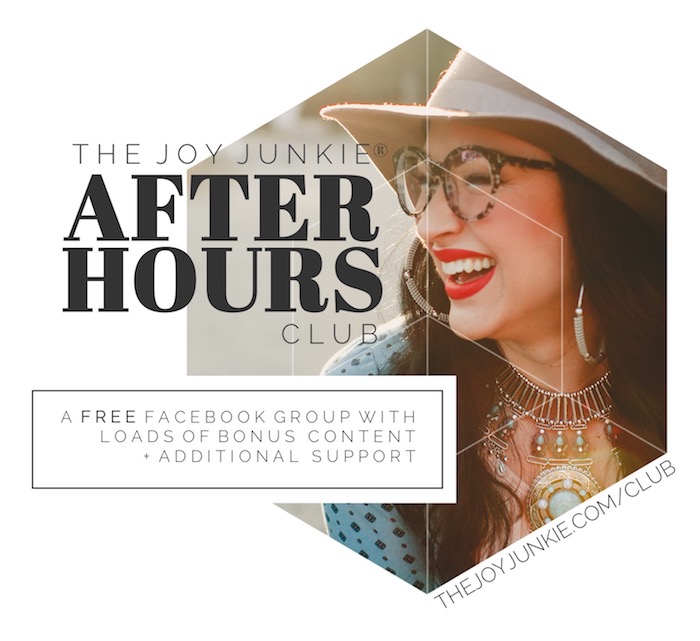 You in on this FREE badassery yet? You are officially invited to my super exclusive/inclusive, [grin] Facebook group, The Joy Junkie After Hours Club!
If you've been diggin' the pod, this group will be an extra dose of support, training vids, discussions, coupon codes, behind the scenes and advice from moi! Plus, it's #totes free and your new soul tribe is waiting for you!
So, clickety-click RIGHT HUURRR or click that image to the right to join the group! #yourewelcome
______
Additional Resources:
______
How to Leave Apple Podcasts Reviews:
Click the "Subscribe on Apple Podcasts" button below or go HERE
Click on blue button that reads "view in Apple Podcasts" which will open the podcast into your personal Apple Podcasts account
Click "Ratings & Reviews" under the show title
Click the star rating of choice and then click the "Write a Review" button
You can also click "Subscribe" under the podcast photo to be automatically notified of new episodes
______
Want to Submit a Show Topic?
Swing by THIS PAGE and let us hear what you would like us to sound off on!
_____