______
__________
I
f you consider yourself a recovering perfectionist, you may relate to the idea of "all or nothing" thinking… as in, you either
have to
work out 5 days a week for an hour each time, OR… you do nothing at all. Or maybe you find yourself slaving away on a serious work project, committed to finite details (that ultimately don't matter) because you
just could never
allow someone else to do it at 80% or allow yourself to finish the project anything short of PERFECT.
Oftentimes, we make our job significantly harder not by setting lofty goals, but by the rules and criteria we make IMPERATIVE in accomplishing those goals… essentially creating the rules of "how" things must be done. It's not just about throwing an awesome party, but rather exactly HOW that party must be executed. As in, slaving away on home-made gifts for the attendees, baking everything from scratch, and shampooing your carpet… all by yourself, until the middle of the night, and lashing out at your spouse who just doesn't "get it". Um… so yeah, I know a bit about this process. [embarrassed-face emoji]
If this sounds eerily familiar, have a listen to this episode where I teach you how to figure out when your ambitions are serving you and when they are making your life miserable. You'll learn a 4-step process to evaluate your own behavior and start shifting your mental conversation in order to create much more peace and relief. #yesplease
This pod explores:
The common over-achieving, perfectionist pull to set the bar impossibly high and what to do about it.
How to craft a name for this behavior so you can catch yourself in the middle of a disempowering "all or nothing" spiral
The way you sell yourself short by only have two options: all in or all out
The perfect go-to mantra you'll need to encourage yourself through the process
______
THE EVENT MENTIONED IN THIS EPISODE IS NO LONGER AVAILABLE.
BUT, WAIT!
YOU CAN SNAG ALL THE LATEST IN FREE GOODS BY CLICKING HERE.
______
______
NEW *FREE* WORKSHOP
READY TO GET RID OF PERFECTIONISM, SELF-DOUBT, AND OVERWHELM?
OF COURSE, YOU ARE!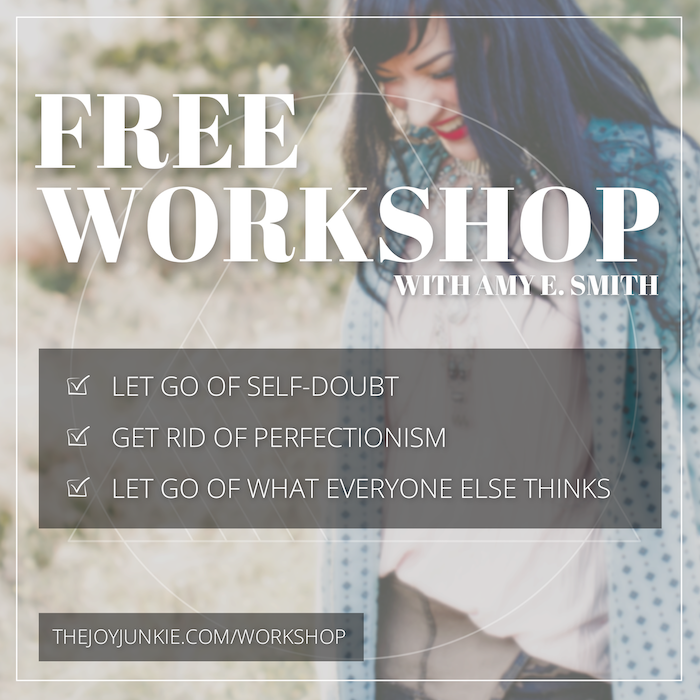 Is this the year you go from a people-pleasing, guilt-tripped perfectionist to a bold and boundaried badass? Um, yeah. I think it is!
If you're DONE feeling overwhelmed, anxious, and stressed out because you're constantly doing, doing, doing for everyone else, then you must grab your seat in this brand-new workshop! You'll learn the exact five-step process I take my clients through so they can let go of all the stress and angst of striving for "perfect" and caring waaaaay too much what everyone else thinks.
It's time to finally believe in yourself, find that self-confidence you crave, and start living your life for YOU. So, clickety-click RIGHT HUURRR or click that image to the right to get on The List! #yourewelcome
______
THE JOY JUNKIE AFTER HOURS CLUB!
COMPLETELY FREE FACEBOOK GROUP. TONS OF SUPPORT YOU CRAVE.
JOIN THE CLUB.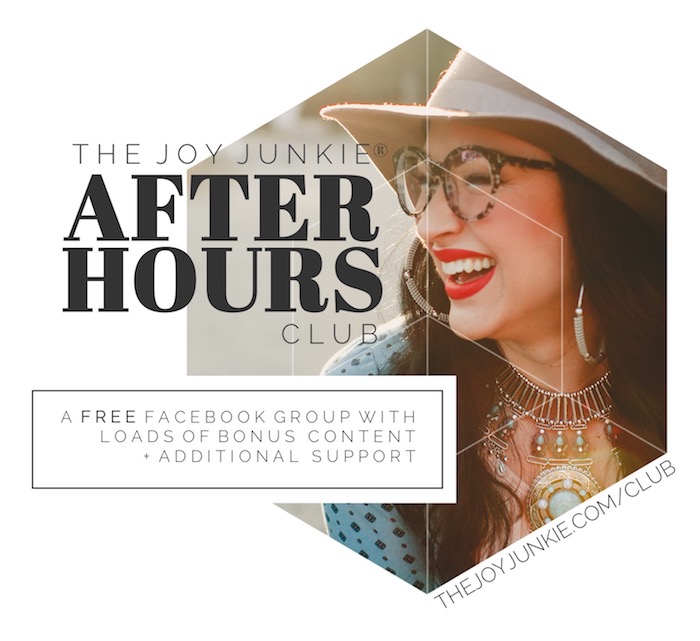 You in on this FREE badassery yet? You are officially invited to my super exclusive/inclusive, [grin] Facebook group, The Joy Junkie After Hours Club!
If you've been diggin' the pod, this group will be an extra dose of support, training vids, discussions, coupon codes, behind the scenes and advice from moi! Plus, it's #totes free and your new soul tribe is waiting for you!
So, clickety-click RIGHT HUURRR or click that image to the right to join the group! #yourewelcome
______
Additional Resources
______
How to Leave Apple Podcasts Reviews:
Click the "Subscribe on Apple Podcasts" button below or go HERE
Click on blue button that reads "view in Apple Podcasts" which will open the podcast into your personal Apple Podcasts account
Click "Ratings & Reviews" under the show title
Click the star rating of choice and then click the "Write a Review" button
You can also click "Subscribe" under the podcast photo to be automatically notified of new episodes
______
Want to Submit a Show Topic?
Swing by THIS PAGE and let us hear what you would like us to sound off on!
_____________