______
___________
H
ave you ever found yourself at your wits end with your partner and you think something to the effect of, "Well, if he would just _________, we'd be just fine!" Or "I totally wouldn't get all worked up if she would just ________." It's totally normal [and much easier] for us to blame our partner and conveniently
NOT
look at our role in the matter.
Here's the rub with all things relationships: We aren't ever really taught how to communicate with our significant others. We learn how to operate from our parents, from experimenting in our intimate partnerships, or from what the media tells us. So, OF COURSE you want to bang your head against the wall. No one told you how to actually get through to that other person.
In this show, I discuss 10 specific questions to ask yourself to help you better navigate the communication in your relationship. PLUS, this episode comes with freebie Journaling Worksheets so you can get it all out on paper, make a plan for your partnership, and get to gettin' with that rich connection you're craving. Say HELLO to better connection, communication, and intimacy. Yes, please!
This pod explores:
____________________
FREE JOURNALING PAGES WITH THIS EPISODE!
GRAB YOURS BELOW!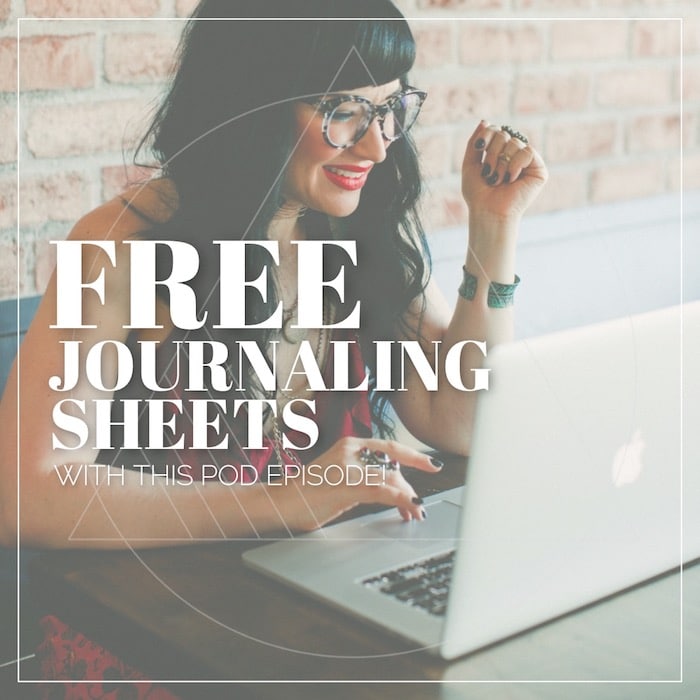 Did you grab your free journaling pages that accompanies this episode? Get on it, Babycakes! Here's the deal: our brain takes things waaaaay more seriously when we get out of our heads and get our thoughts/commitments out on paper. It's like, science.
So, OF COURSE I want you to make some serious changes, so be sure you have your Pod #239 worksheets with you while you (re) listen to this pod so you can get into some serious action. Trust… if you just listen and don't DO, you're not going to change a damn thing.
So, clickety-click RIGHT HUURRR or click that image above to get your freebies sent directly to your inbox! #yourewelcome
___________
______
NEW *FREE* WORKSHOP
READY TO GET RID OF PERFECTIONISM, SELF-DOUBT, AND OVERWHELM?
OF COURSE, YOU ARE!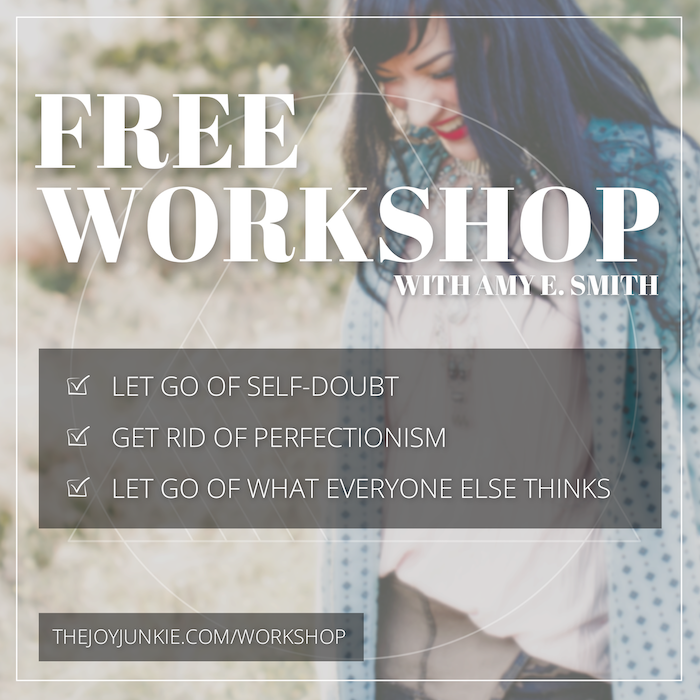 Is this the year you go from a people-pleasing, guilt-tripped perfectionist to a bold and boundaried badass? Um, yeah. I think it is!
If you're DONE feeling overwhelmed, anxious, and stressed out because you're constantly doing, doing, doing for everyone else, then you must grab your seat in this brand-new workshop! You'll learn the exact five-step process I take my clients through so they can let go of all the stress and angst of striving for "perfect" and caring waaaaay too much what everyone else thinks.
It's time to finally believe in yourself, find that self-confidence you crave, and start living your life for YOU. So, clickety-click RIGHT HUURRR or click that image to the right to get on The List! #yourewelcome
______
THE JOY JUNKIE AFTER HOURS CLUB!
COMPLETELY FREE FACEBOOK GROUP. TONS OF SUPPORT YOU CRAVE.
JOIN THE CLUB.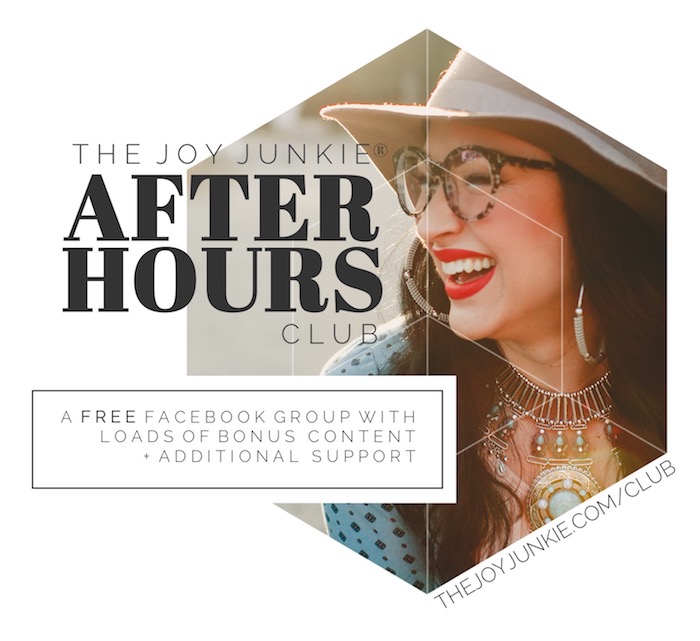 You in on this FREE badassery yet? You are officially invited to my super exclusive/inclusive, [grin] Facebook group, The Joy Junkie After Hours Club!
If you've been diggin' the pod, this group will be an extra dose of support, training vids, discussions, coupon codes, behind the scenes and advice from moi! Plus, it's #totes free and your new soul tribe is waiting for you!
So, clickety-click RIGHT HUURRR or click that image to the right to join the group! #yourewelcome
______
Additional Resources:
______
Comedy Clips:
_______
How to Leave Apple Podcasts Reviews:
______
Want to Submit a Show Topic?
Swing by THIS PAGE and let us hear what you would like us to sound off on!
_____