______
Y
ou have a big decision to make. Maybe it's about a new job. Or if you should move across the country. Maybe ending a relationship… or starting one. And, you are totally fucking confused. Your head is spinning around in The Land of What Ifs.
What if you don't make the right choice? What if you regret it? What will your mom say? 
I mean… how does one just make tough decisions? Write out a pros and cons list? Ask your besties what you should do? Then, why don't any of those things help you feel solid and confident in your choice? Why are you still unsure and anxious?
Well, first off, you are soooo not alone. No one teaches us how to make powerful choices rooted in our own fulfillment. We're taught to check off lists and fit into boxes and craft a life that complies. And what no one ever tells you is that often leads to massive disappointment. Let's flip that script, shall we?
In this episode, I cover off five major concepts you MUST employ to make powerful decisions (so you don't end up super consumed with what your family will think or being mowed over by guilt or regret).
This pod explores:
The absolute FIRST question you must ask yourself before venturing into the decision-making process (this makes every choice waaaaaay easier!)
The one emotion you MUST acknowledge in order to make strong and confident choices
How to know if you are scared because you're making the right decision or because you're making the wrong one
The people's opinions you should care about and the people you need to leave out of it (this may surprise you!)
______
THE EVENT MENTIONED IN THIS EPISODE IS NO LONGER AVAILABLE.
BUT, WAIT!
YOU CAN SNAG ALL THE LATEST IN FREE GOODS BY CLICKING HERE.
______
______
NEW *FREE* WORKSHOP
READY TO GET RID OF PERFECTIONISM, SELF-DOUBT, AND OVERWHELM?
OF COURSE, YOU ARE!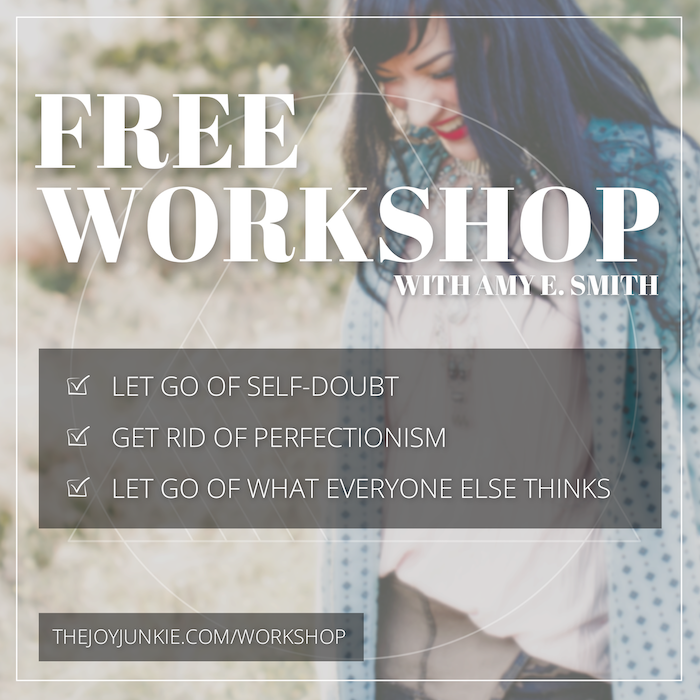 Is this the year you go from a people-pleasing, guilt-tripped perfectionist to a bold and boundaried badass? Um, yeah. I think it is!
If you're DONE feeling overwhelmed, anxious, and stressed out because you're constantly doing, doing, doing for everyone else, then you must grab your seat in this brand-new workshop! You'll learn the exact five-step process I take my clients through so they can let go of all the stress and angst of striving for "perfect" and caring waaaaay too much what everyone else thinks.
It's time to finally believe in yourself, find that self-confidence you crave, and start living your life for YOU. So, clickety-click RIGHT HUURRR or click that image to the right to get on The List! #yourewelcome
______
THE JOY JUNKIE AFTER HOURS CLUB!
COMPLETELY FREE FACEBOOK GROUP. TONS OF SUPPORT YOU CRAVE.
JOIN THE CLUB.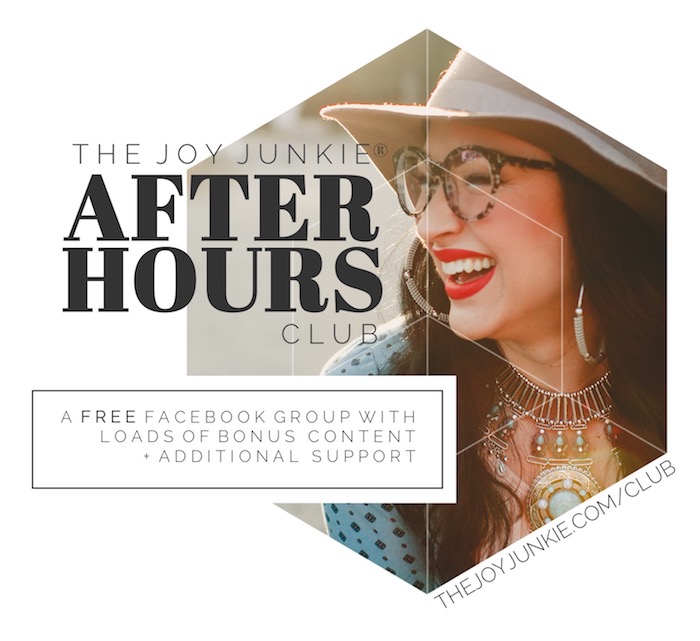 You in on this FREE badassery yet? You are officially invited to my super exclusive/inclusive, [grin] Facebook group, The Joy Junkie After Hours Club!
If you've been diggin' the pod, this group will be an extra dose of support, training vids, discussions, coupon codes, behind the scenes and advice from moi! Plus, it's #totes free and your new soul tribe is waiting for you!
So, clickety-click RIGHT HUURRR or click that image to the right to join the group! #yourewelcome
______
Additional Resources:
______
Comedy Clips:
______
How to Leave Apple Podcasts Reviews:
Click the "Subscribe on Apple Podcasts" button below or go HERE
Click on blue button that reads "view in Apple Podcasts" which will open the podcast into your personal Apple Podcasts account
Click "Ratings & Reviews" under the show title
Click the star rating of choice and then click the "Write a Review" button
You can also click "Subscribe" under the podcast photo to be automatically notified of new episodes
______
Want to Submit a Show Topic?
Swing by THIS PAGE and let us hear what you would like us to sound off on!
_____________