______
E
Ever find yourself trying to add yet
another
thing to your already-packed schedule and that little voice in your head screams, "I DON'T HAVE TIME FOR THIS!!!" Or how 'bout this one: You just can't bring yourself to tell someone "No", so you pack on an additional obligation that totally sends you over the edge into Full. Blown. Overwhelm. Total straw-that-broke-the-camel's-back style. And, then you proceed to unleash that overwhelm on your hubs, or kids, or some poor, unassuming bystander.
Listen, we all struggle with allocating our time wisely, and even the most structured peeps can fall into the trap of feeling as though you never have enough time and become super stressed by your overwhelming… um, overwhelm. But all is certainly not lost. And, believe it or not, there are probably a decent amount of things you can easily shift to bring you loads more time (well, maybe more like a handful) and shit-ton less overwhelm.
This pod explores:
______
NEW *FREE* WORKSHOP
READY TO GET RID OF PERFECTIONISM, SELF-DOUBT, AND OVERWHELM?
OF COURSE, YOU ARE!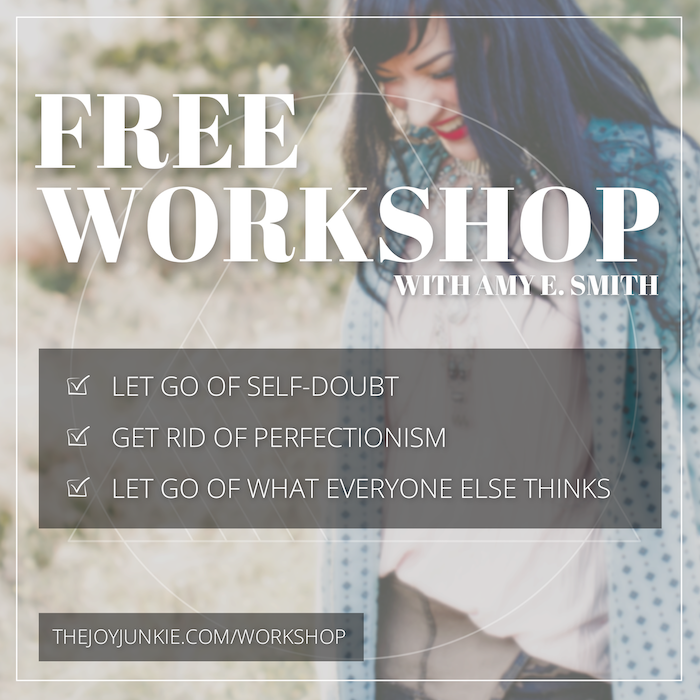 Is this the year you go from a people-pleasing, guilt-tripped perfectionist to a bold and boundaried badass? Um, yeah. I think it is!
If you're DONE feeling overwhelmed, anxious, and stressed out because you're constantly doing, doing, doing for everyone else, then you must grab your seat in this brand-new workshop! You'll learn the exact five-step process I take my clients through so they can let go of all the stress and angst of striving for "perfect" and caring waaaaay too much what everyone else thinks.
It's time to finally believe in yourself, find that self-confidence you crave, and start living your life for YOU. So, clickety-click RIGHT HUURRR or click that image to the right to get on The List! #yourewelcome
______
THE JOY JUNKIE AFTER HOURS CLUB!
COMPLETELY FREE FACEBOOK GROUP. TONS OF SUPPORT YOU CRAVE.
JOIN THE CLUB.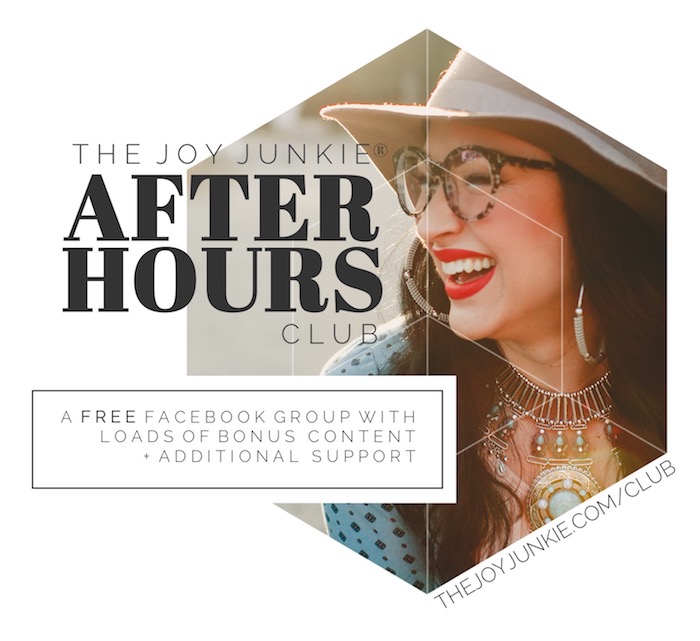 You in on this FREE badassery yet? You are officially invited to my super exclusive/inclusive, [grin] Facebook group, The Joy Junkie After Hours Club!
If you've been diggin' the pod, this group will be an extra dose of support, training vids, discussions, coupon codes, behind the scenes and advice from moi! Plus, it's #totes free and your new soul tribe is waiting for you!
So, clickety-click RIGHT HUURRR or click that image to the right to join the group! #yourewelcome
______
Resources Mentioned:
______
Comedy Clips:
______
How to Leave Apple Podcasts Reviews:
______
Want to Submit a Show Topic?
Swing by THIS PAGE and let us hear what you would like us to sound off on!
_____________