______
T
Tell me if this sounds familiar: You get all pumped up because of a hot date or an awesome job opportunity and as soon as you start to get a bit excited, BOOM, fear sets in. And, maybe some panic… let's be honest. Totally paralyzed by fear.
All of sudden, your mind is flooded with fearful thoughts…"What if he thinks I'm ugly and have too much baggage?" or "What if they think I'm totally under-qualified…" Your excitement gets completely side-swiped by FEAR. Amiright!?
This cycle is super common and there's actually a really good reason for that… We were given fear as a defense mechanism and it's totally a part of our primal makeup. That's all well and good, but how about not being so damn afraid of what people think of you?
In this week's episode, we're discussing how to break free from fear paralysis and my three fave ways to work with my fear instead of being victimized by it.
This pod explores:
The reason we need to make friends with our fear
The difference between self-talk and fear and how they're connected
What emotional resilience is and how it can help you overcome your freak-outs
How to practice courage instead of getting stuck in the fear trap
______
NEW *FREE* WORKSHOP
READY TO GET RID OF PERFECTIONISM, SELF-DOUBT, AND OVERWHELM?
OF COURSE, YOU ARE!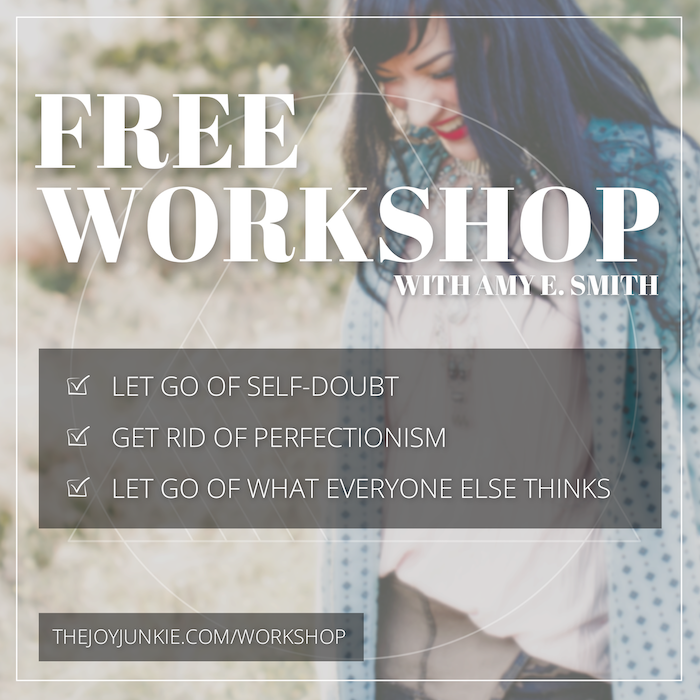 Is this the year you go from a people-pleasing, guilt-tripped perfectionist to a bold and boundaried badass? Um, yeah. I think it is!
If you're DONE feeling overwhelmed, anxious, and stressed out because you're constantly doing, doing, doing for everyone else, then you must grab your seat in this brand-new workshop! You'll learn the exact five-step process I take my clients through so they can let go of all the stress and angst of striving for "perfect" and caring waaaaay too much what everyone else thinks.
It's time to finally believe in yourself, find that self-confidence you crave, and start living your life for YOU. So, clickety-click RIGHT HUURRR or click that image to the right to get on The List! #yourewelcome
______
THE JOY JUNKIE AFTER HOURS CLUB!
COMPLETELY FREE FACEBOOK GROUP. TONS OF SUPPORT YOU CRAVE.
JOIN THE CLUB.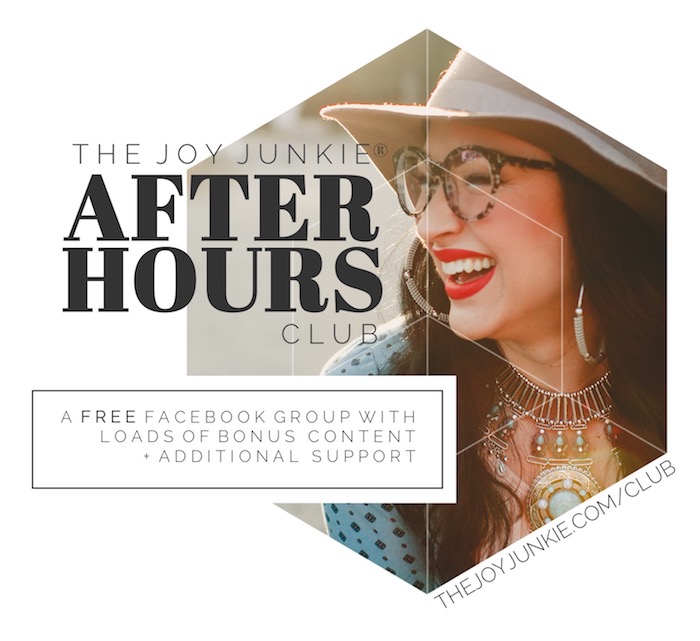 You in on this FREE badassery yet? You are officially invited to my super exclusive/inclusive, [grin] Facebook group, The Joy Junkie After Hours Club!
If you've been diggin' the pod, this group will be an extra dose of support, training vids, discussions, coupon codes, behind the scenes and advice from moi! Plus, it's #totes free and your new soul tribe is waiting for you!
So, clickety-click RIGHT HUURRR or click that image to the right to join the group! #yourewelcome
______
Resources Mentioned:
______
How to Leave Apple Podcasts Reviews:
Click the "Subscribe on Apple Podcasts" button below or go HERE
Click on blue button that reads "view in Apple Podcasts" which will open the podcast into your personal Apple Podcasts account
Click "Ratings & Reviews" under the show title
Click the star rating of choice and then click the "Write a Review" button
You can also click "Subscribe" under the podcast photo to be automatically notified of new episodes
______
Want to Submit a Show Topic?
Swing by THIS PAGE and let us hear what you would like us to sound off on!
_____________