Ever find yourself having a type grip on controlling damn near everything and wonder why-the-hell you have that tendency? Or maybe you constantly try to make everyone else happy and find yourself pleasing everyone (except yourself) and you're starting to see that this behavior is just not working anymore. Or perhaps you don't think anything is worth doing unless it is absolute PERFECT so you end up overthinking and procrastinating. Any of those sound familiar?
What if I told you that there was a tool that could help you understand why you are pulled to these behaviors and what you can do to either embrace them, re-brand them, or alter them from a place of personal power? You'd be all over it, right? Spoiler: THERE IS A TOOL! Bet you didn't see that coming (lol). 
This week on the show, I'm so excited to have Sarajane Case share her vault of wisdom on how the Enneagram can provide huge insight into our shadow selves (the things about us that we aren't so thrilled about), how we behave when we are stressed, and how we can truly honor our strengths. Sarajane provides a rich perspective on how understanding our Enneagram type can help offer ourselves huge doses of compassion while we work on embracing who we are and genuinely believing in ourselves. Be sure to grab a pen and paper because Sarajane throws out a bunch of journaling prompts you won't want to miss!
This pod explores:
How to look at the fucked up part of ourselves and actually not hate ourselves for it (Wait.. WHAT!?)
Understanding the 9 enneagram types and what that means for how you view your self-worth
Journal prompts/inquiries for each type to help you access your strengths and access some self-belief
Understanding how the self-help industry is failing us (All dramatic)
______
PERKS FOR THE POD-IANCE
This podcast is sponsored by BetterHelp and The Joy Junkie Show Podcast listeners get 10% off their first month at BetterHelp.com/thejoyjunkie. Hello!! 
Join the millions of people who have found huge relief and support from BetterHelp therapists and save on your first while you're at it! Check it out ~>
______
*FREE* WORKSHOP
READY TO GET RID OF PERFECTIONISM, SELF-DOUBT, AND OVERWHELM?
OF COURSE, YOU ARE!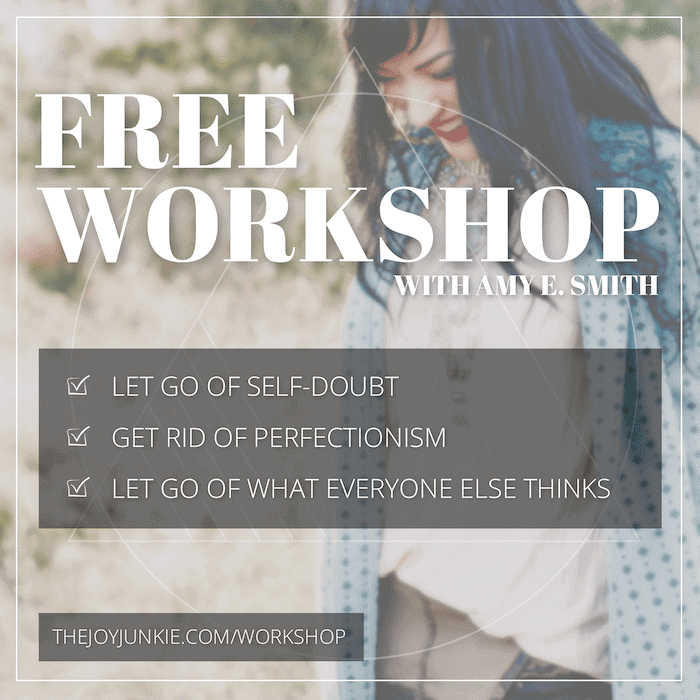 Is this the year you go from a people-pleasing, guilt-tripped perfectionist to a bold and boundaried badass? Um, yeah. I think it is!
If you're DONE feeling overwhelmed, anxious, and stressed out because you're constantly doing, doing, doing for everyone else, then you must grab your seat in this brand-new workshop! You'll learn the exact five-step process I take my clients through so they can let go of all the stress and angst of striving for "perfect" and caring waaaaay too much what everyone else thinks.
It's time to finally believe in yourself, find that self-confidence you crave, and start living your life for YOU. So, clickety-click RIGHT HUURRR or click that image to the right to get on The List! #yourewelcome
______
Additional Resources:
___
this week's guestie
Sarajane Case is a trained Enneagram teacher, author of The Honest Enneagram and Host of the Enneagram & Coffee Podcast. She helps people to find their perfect balance between self-care and productivity so they can release shame and feel confident in how they spend their time. She does this through her online community The Brave Collective as well as corporate trainings, guest speaking and personal essays. You can find more from Sarajane at www.enneagramandcoffee.com  
______
How to Leave Apple Podcasts Reviews:
Click the "Subscribe on Apple Podcasts" button below or go HERE
Click on blue button that reads "view in Apple Podcasts" which will open the podcast into your personal Apple Podcasts account
Click "Ratings & Reviews" under the show title
Click the star rating of choice and then click the "Write a Review" button
You can also click "Subscribe" under the podcast photo to be automatically notified of new episodes
______
Want to Submit a Show Topic?
Swing by THIS PAGE and let us hear what you would like us to sound off on!