______
U
nless you're some kind of alien species living amongst us humans (in which case… #creepy), you undoubtedly have a litany of go-to behaviors or actions you employ when you straight-up Don't. Want. To. Deal. In Millennial language, the shit you do when you
Literally Can't Even
.
Sometimes it can be "noble" go-to behaviors like over-working, throwing yourself into parenting, or working out like Jillian on crack instead of really looking at what it is that you don't want to feel. And perhaps you have some not-so-noble behaviors like blaming everyone else (like your ex) or binging out on some Ben n' Jerry's or drinking a bottle of wine all by yourself… simply because being with the guilt/self-loathing/embarrassment/grief/overwhelm/sadness, just feels waaaaaay too unbearable.
If any of that sounds eerily familiar, no need to bust out more Bn'J's or start a new business to distract yourself… In fact, it just means that you're fucking human. And just like most human behavior, the more you understand it and have compassion for it, the more you can create empowering change. In this week's episode I'm joined by my bestie (and total badass) Andrea Owen where we discuss how to identify your go-to, self-sabotaging behaviors and how you can start altering them for the better.
This pod explores:
How to figure out what your go-to, self-sabotaging behaviors are (including some you may be shocked by!)
What the 80/20 rule is an how it applies to dealing with uncomfortable emotions
How blame and control tend to be easy go-to's when you're overwhelmed/stressed/pissed and how to channel (not squash) that energy for the better
Why you MUST embrace self-sabotage if you ever want to create change
______
THE EVENT MENTIONED IN THIS EPISODE IS NO LONGER AVAILABLE.
BUT, WAIT!
YOU CAN SNAG ALL THE LATEST IN FREE GOODS BY CLICKING HERE.
______
______
NEW *FREE* WORKSHOP
READY TO GET RID OF PERFECTIONISM, SELF-DOUBT, AND OVERWHELM?
OF COURSE, YOU ARE!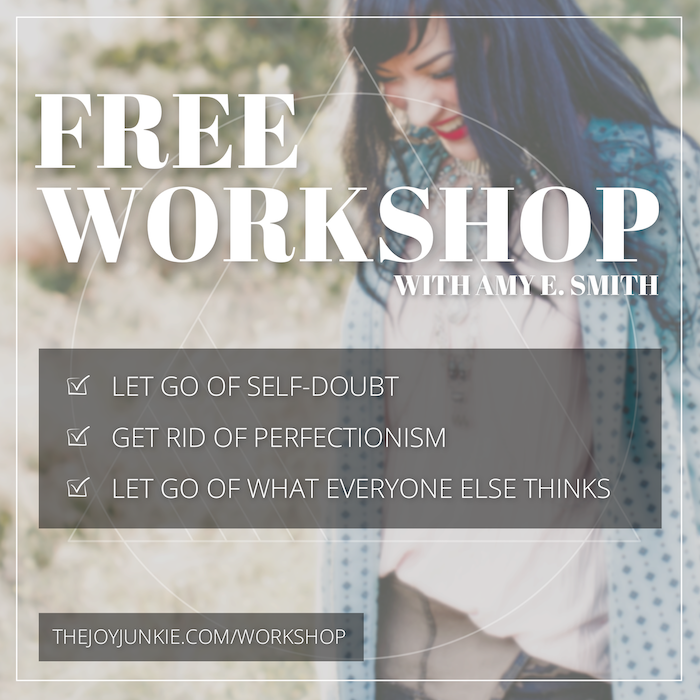 Is this the year you go from a people-pleasing, guilt-tripped perfectionist to a bold and boundaried badass? Um, yeah. I think it is!
If you're DONE feeling overwhelmed, anxious, and stressed out because you're constantly doing, doing, doing for everyone else, then you must grab your seat in this brand-new workshop! You'll learn the exact five-step process I take my clients through so they can let go of all the stress and angst of striving for "perfect" and caring waaaaay too much what everyone else thinks.
It's time to finally believe in yourself, find that self-confidence you crave, and start living your life for YOU. So, clickety-click RIGHT HUURRR or click that image to the right to get on The List! #yourewelcome
______
THE JOY JUNKIE AFTER HOURS CLUB!
COMPLETELY FREE FACEBOOK GROUP. TONS OF SUPPORT YOU CRAVE.
JOIN THE CLUB.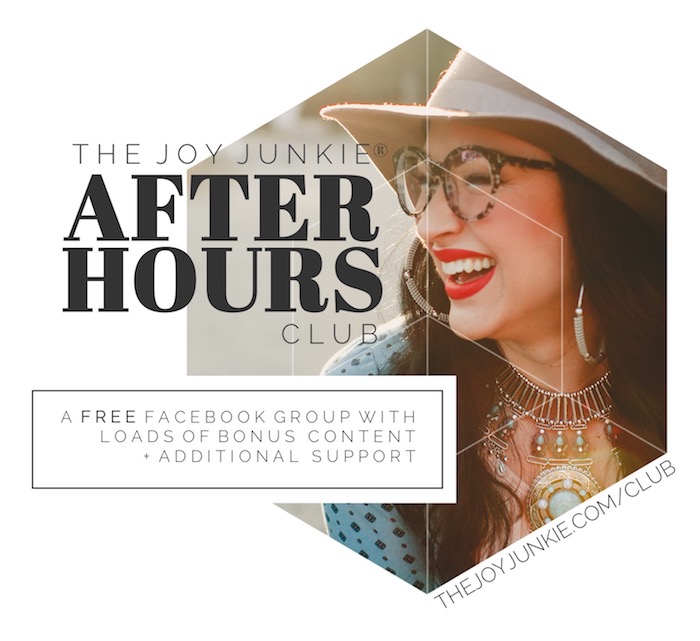 You in on this FREE badassery yet? You are officially invited to my super exclusive/inclusive, [grin] Facebook group, The Joy Junkie After Hours Club!
If you've been diggin' the pod, this group will be an extra dose of support, training vids, discussions, coupon codes, behind the scenes and advice from moi! Plus, it's #totes free and your new soul tribe is waiting for you!
So, clickety-click RIGHT HUURRR or click that image to the right to join the group! #yourewelcome
______
Additional Resources
______
Meet Andrea Owen, The Special Guestie this week!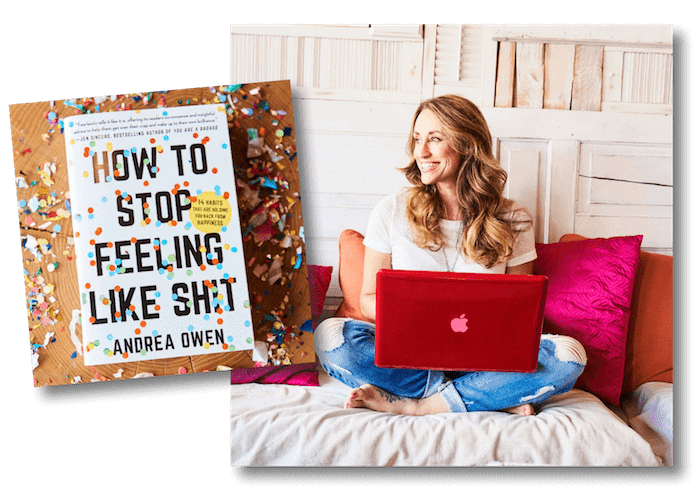 Andrea Owen is an author, mentor, and certified life coach who helps women get what they want by letting go of perfectionism, control, and isolation and choosing to practice courage instead. She has helped thousands of women manage their inner-critic to create loving connections and live their most kick-ass life.
She is the proud author of 52 Ways to Live a Kick-Ass Life: BS Free Wisdom to Ignite Your Inner Badass and Live the Life You Deserve,  (Adams Media).
When she's not juggling her full coaching practice and writing her second book, Andrea is busy competing in triathlons, chasing her 7 year-old son and 5 year-old daughter or making out with her husband, Jason. She is also a retired roller derby player having skated under the name "Veronica Vain".
Learn more about Andrea at http://yourkickasslife.com and join the fun and wisdom at http://facebook.com/yourkickasslife
______
How to Leave Apple Podcasts Reviews:
Click the "Subscribe on Apple Podcasts" button below or go HERE
Click on blue button that reads "view in Apple Podcasts" which will open the podcast into your personal Apple Podcasts account
Click "Ratings & Reviews" under the show title
Click the star rating of choice and then click the "Write a Review" button
You can also click "Subscribe" under the podcast photo to be automatically notified of new episodes
______
Want to Submit a Show Topic?
Swing by THIS PAGE and let us hear what you would like us to sound off on!
_____________