So, you're stuck. Not moving. Not taking much action. 
You know all the things you should be doing to get where you wanna go, yet you don't actually do it. 
Or maybe you have no idea what you want to do and that is leaving you feeling stuck as fuck. (Side note: I feel like there should be a glue or tape company called "Stuck as Fuck")
And, it's likely if you're feeling stuck, there are a shit-ton of other things you may be feeling too. Maybe you feel some fear about starting a new career path. Maybe you feel overwhelmed from your current roles as partner, parent, employee, friend, etc. Maybe you feel anxious about getting back in the dating scene. And, then your behaviors follow suit. You're scared to switch careers, so you procrastinate. You're overwhelmed in your current roles, but you still people-please, adding to your overwhelm. You're anxious about dating, so you obsess over being perfect before posting your online profile. Stuck af, rinse, repeat.
Gah! So, what is one to do? This week on the show, I dial up my pal Britt Frank, a psychotherapist and trauma specialist who recently penned an amazing book entitled, The Science of Stuck. Add to cart, amiright!? In this uber-packed interview we discuss all the "parts" that make up our personality (aka when your inner child throws a tantrum), how anxiety is not something that "attacks" you but is actually a message about your safety, and Britt's fav 5-minute challenge to help you bust through your stuckness. Get ready to wear a hole in this episode, because it's a good one. 
This pod explores:
The difference between anxiety, fear, and worry and how to work with each of them
Understanding "Emotional Regression" – aka When you immediately revert back to being 16 when you're around your Mom
Understanding what is really happening when you're procrastinating and why that may be exactly what you need to be doing
How Britt's phobia of sponges (yes, like, kitchen sponges) was related to unresolved sexual trauma and what she did to heal
GET ON THE VIP LIST!
IT'S TIME TO BELIEVE YOU ARE WORTHY, ONCE AND FOR ALL.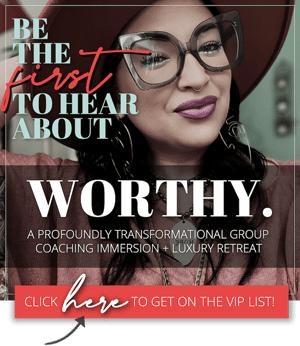 It's time to stop talking constant shit to yourself. It's time to stop caring so much about what everyone else thinks of you. It's time to let go of that death grip on perfectionism, self-doubt, and people-pleasing. After all, how has all that shit been working? That's what I thought.
Let's kick that shit to the curb, shall we? I'm about to open the doors for an exclusive, group-coaching immersion that will teach you the skills to access some serious "enoughness," start believing in yourself, and speak up for yourself like a bold, boundaried badass. Oh, and this 9-month, deep-dive includes a 5-day, luxury retreat! Hello!
Want in? Of course, you do. Clickety click RIGHT HERE or click the fancy image to get on the VIP list and be the first to be notified when the application window is open for WORTHY.
HIRE ME TO SPEAK AT YOUR EVENT!
ACCESS 'ENOUGHNESS'. POWERFULLY NAVIGATE FEAR. SPEAK UP FOR YOURSELF.
I have three battle-tested (and badass) keynote speeches that are ready to be delivered to your company, organization, group, or association. If you or anyone you know could benefit from me droppin' some gems (um, like, who couldn't use some new tools?) please send them to THIS FANCY INFO PAGE on my site where you/they can message me directly about specific needs.
______
PERKS FOR THE POD-IENCE
This podcast is sponsored by BetterHelp and The Bold-Faced Truth Podcast listeners get 10% off their first month at betterhelp.com/boldtruth or simply enter code boldtruth at checkout. Hello!!
Join the millions of people who have found huge relief and support from BetterHelp therapists and save on your first month while you're at it! Check it out ~>

______
ADDITIONAL RESOURCES:
______
THIS WEEK'S 'DIAL AN EXPERT ' GUESTIE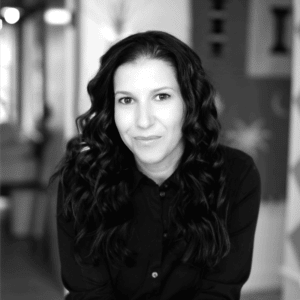 Britt Frank, MSW, LSCSW, SEP is a clinician, educator and trauma specialist. She speaks and writes widely about the mental health myths that keep us stuck and stressed. Britt received her BA from Duke University and her MSW from the University of Kansas, where she later became an award-winning adjunct professor. She is a Somatic Experiencing Practitioner and Level 3 trained in the Internal Family Systems therapeutic model. Her first book The Science of Stuck was released March 2022 and is available now.

Grab her book on Amazon and/or connect with her on Insta.
_____
How to Leave Apple Podcasts Reviews:
Click the "Subscribe on Apple Podcasts" button below or go HERE
Click on blue button that reads "view in Apple Podcasts" which will open the podcast into your personal Apple Podcasts account
Click "Ratings & Reviews" under the show title
Click the star rating of choice and then click the "Write a Review" button
You can also click "Subscribe" under the podcast photo to be automatically notified of new episodes
______
Want to Submit a Show Topic?
Swing by THIS PAGE and let us hear what you would like us to sound off on!