Recently a listener wrote into the show, asking what to do when you find yourself feeling stuck. You know that racket, no? Stuck in a relationship… stuck in a soul-sucking job… stuck in a friendship that doesn't serve you. The list goes on. Perhaps you know exactly what you want, but you feel stuck in taking any action. Or maybe you have no idea what you want and that is leaving you feeling stagnant and unmotivated.
Many times, when we feel "stuck", we look outside ourselves for the magic answer instead of addressing things that are totally within our power. Without knowing it, we fall into patterns and habits that ultimately leave us feeling complacent and we forget to take action on the things that we already know bring us joy. Like, getting back to that knitting project you loved. Or picking up your guitar again. Whatever… you get the picture.
In this episode, I dig into ten different strategies and questions you can ask yourself to break out of your stuck-ness in order to create much more happiness and fulfillment. You may actually be super surprised how easy it can be!
This pod explores:
What to say to yourself instead of "I don't know how to…"

How to break up the monotony of your habits and switch shit up, creating much more momentum and movement

How to clear out the clutter in your world that is unknowingly keeping you stuck-as-fuck

Why you must create a plan if you want to change your current situation
GET ON THE VIP LIST!
IT'S TIME TO BELIEVE YOU ARE WORTHY, ONCE AND FOR ALL.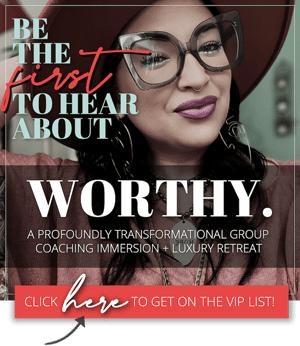 It's time to stop talking constant shit to yourself. It's time to stop caring so much about what everyone else thinks of you. It's time to let go of that death grip on perfectionism, self-doubt, and people-pleasing. After all, how has all that shit been working? That's what I thought.
Let's kick that shit to the curb, shall we? I'm about to open the doors for an exclusive, group-coaching immersion that will teach you the skills to access some serious "enoughness," start believing in yourself, and speak up for yourself like a bold, boundaried badass. Oh, and this 9-month, deep-dive includes a 5-day, luxury retreat! Hello!
Want in? Of course you do. Clickety click RIGHT HERE or click the fancy image to get on the VIP list and be the first to be notified when the application window is open for WORTHY.
HIRE ME TO SPEAK AT YOUR EVENT!
ACCESS 'ENOUGHNESS'. POWERFULLY NAVIGATE FEAR. SPEAK UP FOR YOURSELF.
I have three battle-tested (and badass) keynote speeches that are ready to be delivered to your company, organization, group, or association. If you or anyone you know could benefit from me droppin' some gems (um, like, who couldn't use some new tools?) please send them to THIS FANCY INFO PAGE on my site where you/they can message me directly about specific needs.
______
PERKS FOR THE POD-IENCE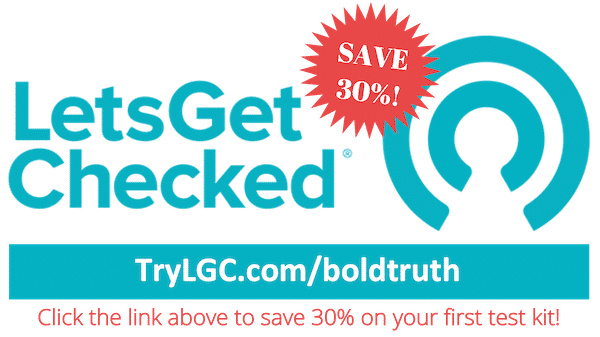 This podcast is sponsored by LetsGetChecked and The Bold-Faced Truth Podcast listeners get a whoppin' 30% off their first test kit of choice at trylgc.com/boldtruth or simply enter code boldtruth at checkout. Hello!!
Getting necessary medical testing can be simple, safe, and easily done in the privacy of your own home. Check out this killer offer from
LetsGetChecked and save 30% on your first test kit! Check it out ~>
_____
ADDITIONAL RESOURCES:
___
How to Leave Apple Podcasts Reviews:
Click the "Subscribe on Apple Podcasts" button below or go HERE
Click on blue button that reads "view in Apple Podcasts" which will open the podcast into your personal Apple Podcasts account
Click "Ratings & Reviews" under the show title
Click the star rating of choice and then click the "Write a Review" button
You can also click "Subscribe" under the podcast photo to be automatically notified of new episodes
______
Want to Submit a Show Topic?
Swing by THIS PAGE and let us hear what you would like us to sound off on!