If you're like most, this past year has wreaked an abundance of havoc on your mental, physical, and emotional faculties. If it wasn't the collective trauma of constant fear of a looming and evasive virus, painful isolation, or loss of personal freedom, it was the loss of a job, finances, a loved one, or possibly the end of an important relationship. In short, 2020 can eat a bag of dicks, amiright!?
So, where does that leave us now? The genesis of a new year often gives us hope and thrill of possibility and opportunity. But, what does that really look like? What does it mean to consciously create a fresh start and actively move on? Does that mean we sweep everything under the table and put on a happy face? Hardly.
In this week's show I look at seven actionable steps you can take in order to shed the trauma of the past year, identify what you need to succeed, and begin to take action toward the life you desire. No matter what scars the past year has saddled you with, this episode will give you practical tips on purposely switching gears, healing those wounds, and kicking serious ass.
This pod explores:
How to identify what is in the way of you moving on
The easiest and most practical things you can do in your home to shift energy and create a new start
How to know what things you should quit and when you should persevere
The #1 way to ensure you create a fresh start with success
______
FREE WORKSHEETS WITH THIS EPISODE!
GRAB YOURS BELOW!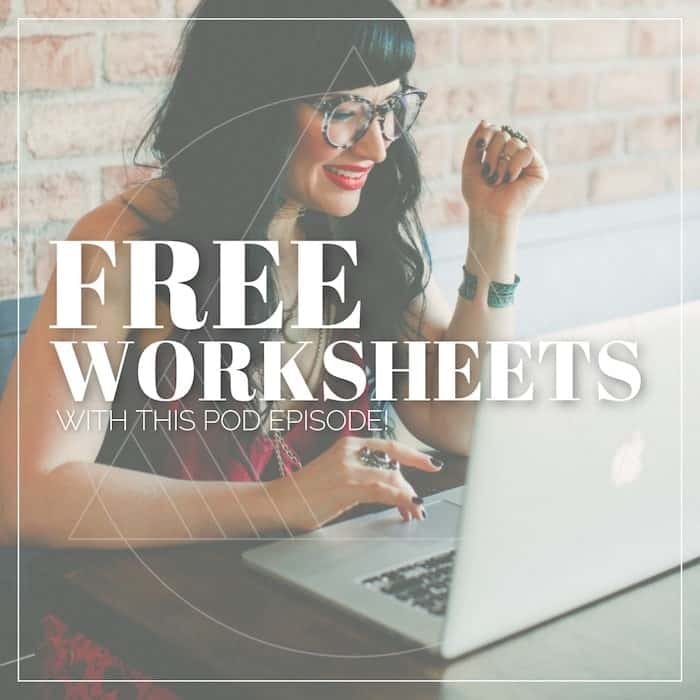 Did you grab your free journaling worksheets that accompanies this episode? Get on it, Babycakes! Here's the deal: our brain takes things waaaaay more seriously when we get out of our heads and get our thoughts/commitments out on paper. It's like, science.
So, OF COURSE I want you to make some serious changes and create a kick-ass fresh start to 2021! Be sure you have your Pod #375 worksheets with you while you (re) listen to this pod so you can get into some serious action. Trust… if you just listen and don't DO, you're not going to change a damn thing.
So, clickety-click RIGHT HUURRR or click that image above to get your freebies sent directly to your inbox! #yourewelcome
______
NEW *FREE* WORKSHOP
READY TO GET RID OF PERFECTIONISM, SELF-DOUBT, AND OVERWHELM?
OF COURSE, YOU ARE!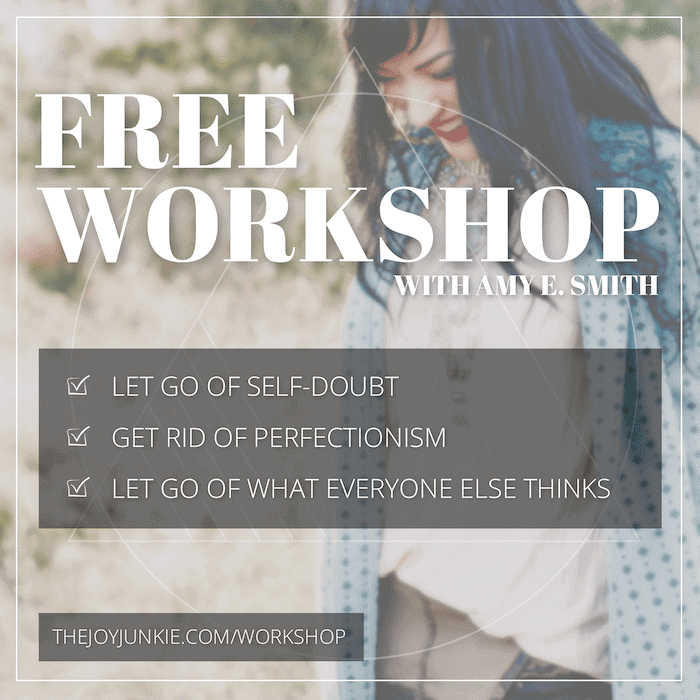 Is this the year you go from a people-pleasing, guilt-tripped perfectionist to a bold and boundaried badass? Um, yeah. I think it is!
If you're DONE feeling overwhelmed, anxious, and stressed out because you're constantly doing, doing, doing for everyone else, then you must grab your seat in this brand-new workshop! You'll learn the exact five-step process I take my clients through so they can let go of all the stress and angst of striving for "perfect" and caring waaaaay too much what everyone else thinks.
It's time to finally believe in yourself, find that self-confidence you crave, and start living your life for YOU. So, clickety-click RIGHT HUURRR or click that image to the right to get on The List! #yourewelcome
______
THE JOY JUNKIE AFTER HOURS CLUB!
COMPLETELY FREE FACEBOOK GROUP. TONS OF SUPPORT YOU CRAVE.
JOIN THE CLUB.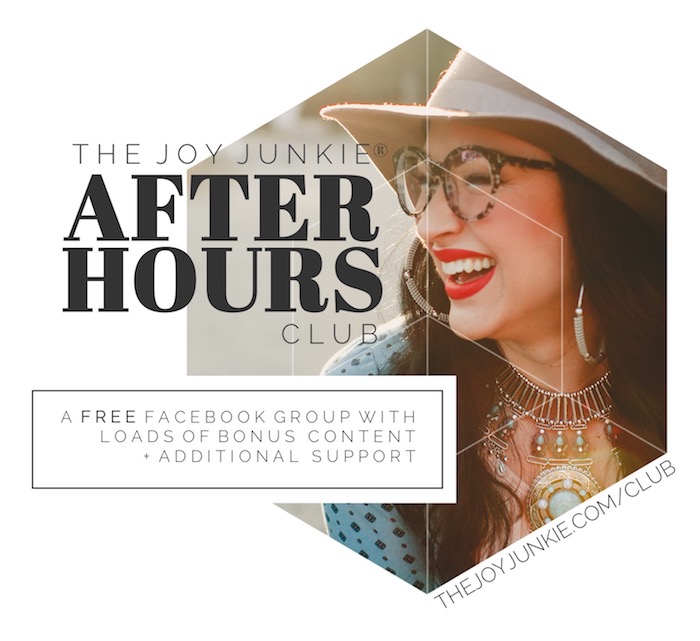 You in on this FREE badassery yet? You are officially invited to my super exclusive/inclusive, [grin] Facebook group, The Joy Junkie After Hours Club!
If you've been diggin' the pod, this group will be an extra dose of support, training vids, discussions, coupon codes, behind the scenes and advice from moi! Plus, it's #totes free and your new soul tribe is waiting for you!
So, clickety-click RIGHT HUURRR or click that image to the right to join the group! #yourewelcome
______
Additional Resources:
______
How to Leave Apple Podcasts Reviews:
Click the "Subscribe on Apple Podcasts" button below or go HERE
Click on blue button that reads "view in Apple Podcasts" which will open the podcast into your personal Apple Podcasts account
Click "Ratings & Reviews" under the show title
Click the star rating of choice and then click the "Write a Review" button
You can also click "Subscribe" under the podcast photo to be automatically notified of new episodes
______
Want to Submit a Show Topic?
Swing by THIS PAGE and let us hear what you would like us to sound off on!
_____________