Ever feel like no matter what you do, you simply never have enough time? Perhaps you are constantly putting out fires, running on autopilot, all the while watching shit pile up that you swore you were going to handle two weeks ago. Ever find yourself volunteering for an extra project or an extra whateverthefuck that ends up leaving you feeling both obligated and stress to the max? Or perhaps your method of staying on top of things is a system of piles and stacks, sticky notes and memos, without a solid understanding of what really needs attention. So, you just constantly put out fires. And more fires. Until you, yourself, burn the fuck out.
Sound familiar? If you are used to constant overwhelm and doing everything your god-dammed self, it's likely that you could use a bit of knowledge on good ol' time management. It's time to break out of the rat race that leaves you feeling constantly behind, exhausted, and frazzled. In this week's show, I sound off on seven things you can immediately implement to usher in more peace, ease, and calm. Hell. Yes.
This pod explores:
How to make your to-do list and calendar your friends (instead of arch rivals)
The one tip you MUST employ to eliminate the stress of your commitments
My favorite tool to dissect your never-ending to-do list into easy and manageable chunks
The two places you are likely making your job waaaay harder and what to do about it
______
NEW *FREE* WORKSHOP
READY TO GET RID OF PERFECTIONISM, SELF-DOUBT, AND OVERWHELM?
OF COURSE, YOU ARE!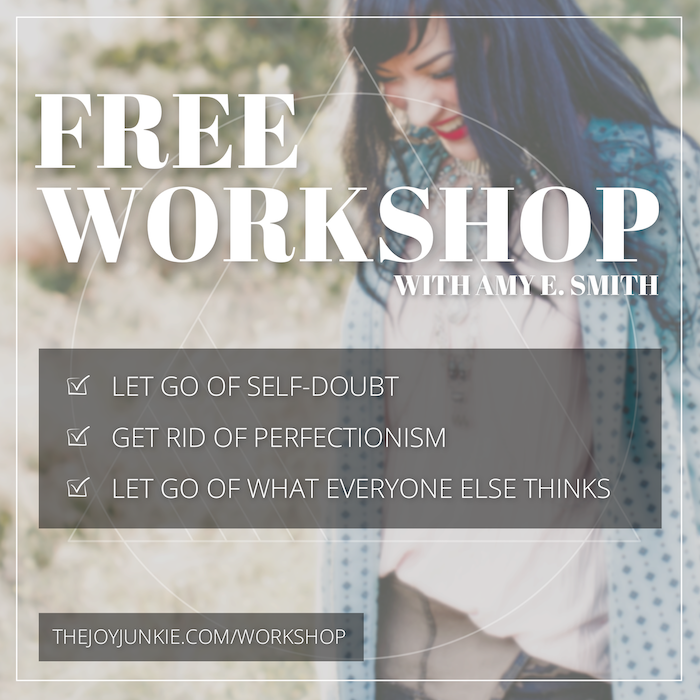 Is this the year you go from a people-pleasing, guilt-tripped perfectionist to a bold and boundaried badass? Um, yeah. I think it is!
If you're DONE feeling overwhelmed, anxious, and stressed out because you're constantly doing, doing, doing for everyone else, then you must grab your seat in this brand-new workshop! You'll learn the exact five-step process I take my clients through so they can let go of all the stress and angst of striving for "perfect" and caring waaaaay too much what everyone else thinks.
It's time to finally believe in yourself, find that self-confidence you crave, and start living your life for YOU. So, clickety-click RIGHT HUURRR or click that image to the right to get on The List! #yourewelcome
______
THE JOY JUNKIE AFTER HOURS CLUB!
COMPLETELY FREE FACEBOOK GROUP. TONS OF SUPPORT YOU CRAVE.
JOIN THE CLUB.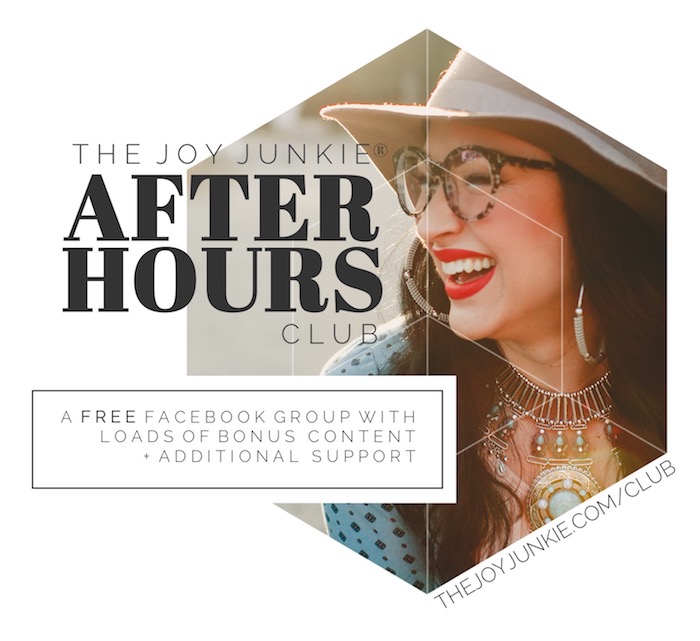 You in on this FREE badassery yet? You are officially invited to my super exclusive/inclusive, [grin] Facebook group, The Joy Junkie After Hours Club!
If you've been diggin' the pod, this group will be an extra dose of support, training vids, discussions, coupon codes, behind the scenes and advice from moi! Plus, it's #totes free and your new soul tribe is waiting for you!
So, clickety-click RIGHT HUURRR or click that image to the right to join the group! #yourewelcome
______
Additional Resources:
Join the After Hours Club: Join the rest of the pod-iance in our secret pod peep group for weekly discussions, extra trainings, and tons of freebies
______
How to Leave Apple Podcasts Reviews:
Click the "Subscribe on Apple Podcasts" button below or go HERE
Click on blue button that reads "view in Apple Podcasts" which will open the podcast into your personal Apple Podcasts account
Click "Ratings & Reviews" under the show title
Click the star rating of choice and then click the "Write a Review" button
You can also click "Subscribe" under the podcast photo to be automatically notified of new episodes
______
Want to Submit a Show Topic?
Swing by THIS PAGE and let us hear what you would like us to sound off on!
_____________