______
H
ave you ever felt sure about a choice you've made only to be met with friends and/or family who make it abundantly clear that they
do not
like your choice? And, then you start second guessing the choice you made? Yeah. Me too.
Recently, a listener wrote in to the show expressing a similar issue: She had made the choice not to go to a family function (which sounded like hell to her) and her sister completely gave her the cold shoulder for three [fucking] months. When the sister finally came clean about what was bothering her, she not only didn't listen to any reasoning, but called the listener selfish and accused her of always doing what she wanted to do no matter what.
Well, shit. So, this listener wanted to know, "How do I avoid being perceived as selfish or uncaring when I say no to something others want me to do or when I create boundaries?" You KNOW I had a shit-ton to say on this one, no? In this episode I break down 6 concepts to be aware of so that you aren't totally and completely destroyed if mom doesn't like your choice of mate or if your sister doesn't think you should take that job. And more importantly, so you don't keep changing your behavior just to make everyone else happy.
This pod explores:
The shitty thing about personal development (WHAT? I know, right!?)
How to allow yourself to be bummed-the-fuck-out by other people's responses to you without making it mean you did something wrong
How to get laser focused on what is your responsibility and how to let everything else go (Um… instead of obsessing)
How to know who you can and can't share information with
______
THE EVENT MENTIONED IN THIS EPISODE IS NO LONGER AVAILABLE.
BUT, WAIT!
YOU CAN SNAG ALL THE LATEST IN FREE GOODS BY CLICKING HERE.
______
______
NEW *FREE* WORKSHOP
READY TO GET RID OF PERFECTIONISM, SELF-DOUBT, AND OVERWHELM?
OF COURSE, YOU ARE!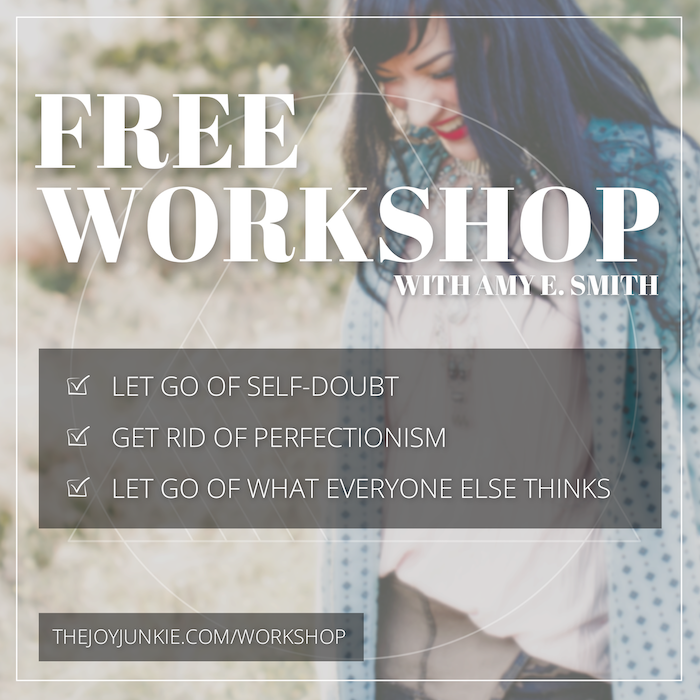 Is this the year you go from a people-pleasing, guilt-tripped perfectionist to a bold and boundaried badass? Um, yeah. I think it is!
If you're DONE feeling overwhelmed, anxious, and stressed out because you're constantly doing, doing, doing for everyone else, then you must grab your seat in this brand-new workshop! You'll learn the exact five-step process I take my clients through so they can let go of all the stress and angst of striving for "perfect" and caring waaaaay too much what everyone else thinks.
It's time to finally believe in yourself, find that self-confidence you crave, and start living your life for YOU. So, clickety-click RIGHT HUURRR or click that image to the right to get on The List! #yourewelcome
______
THE JOY JUNKIE AFTER HOURS CLUB!
COMPLETELY FREE FACEBOOK GROUP. TONS OF SUPPORT YOU CRAVE.
JOIN THE CLUB.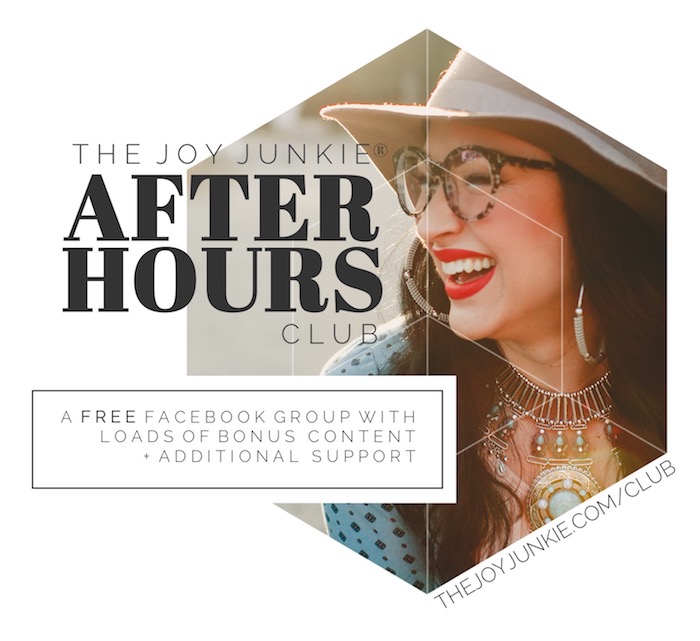 You in on this FREE badassery yet? You are officially invited to my super exclusive/inclusive, [grin] Facebook group, The Joy Junkie After Hours Club!
If you've been diggin' the pod, this group will be an extra dose of support, training vids, discussions, coupon codes, behind the scenes and advice from moi! Plus, it's #totes free and your new soul tribe is waiting for you!
So, clickety-click RIGHT HUURRR or click that image to the right to join the group! #yourewelcome
______
Additional Resources
______
How to Leave Apple Podcasts Reviews:
Click the "Subscribe on Apple Podcasts" button below or go HERE
Click on blue button that reads "view in Apple Podcasts" which will open the podcast into your personal Apple Podcasts account
Click "Ratings & Reviews" under the show title
Click the star rating of choice and then click the "Write a Review" button
You can also click "Subscribe" under the podcast photo to be automatically notified of new episodes
______
Want to Submit a Show Topic?
Swing by THIS PAGE and let us hear what you would like us to sound off on!
_____________