When told by older women that she would one day settle into her age and things would get easier, author Kaya Oakes thought, "Apparently at some point I would reach a magical age when I had 'no fucks left to give.' But no one had warned me that before I hit that magical age, I'd have to survive my forties." If it's not your face falling down, your bladder starting a coup, your hair falling out, or needing waaaaay too much sleep (I mean, this is unreasonable, isn't it?), then it's dealing with feeling invisible, grappling with your identity shifts, and wondering if it's only going to get worse.
Now don't get me wrong, I know I have it easy. I know being in my forties is far from the end of the world. But something is for sure changing and I don't hear a bunch of folks talking about it. In fact, when I look at social media, television, or other media, middle-age women seem to be visible only when advertising fiber supplements. Try searching any stock photo site for middle-age women and you'll get a ton of women in their nineties… almost like we've been erased.
In this candid and very non-expert discussion, I chat with my very best friend, Andrea Owen, on what we've been processing as we process changes of mid-life. This episode is an inside look into two 40-somethings discussing what it feels like to constantly advocate for your health, reckon with physical changes, and what we actually love most about aging. If you've been wandering around like, "What is this body!? What is this life!?" then pull up an ear, my friend. You are not alone.
This pod explores:
Understanding the "ambiguous grief" of navigating changes in your forties
The currency of beauty and youth in our culture and how that affects you as you age
How we each approach feminism as we find botox and fillers more appealing
The connection between the personal growth industry and being transparent about middle age
____
HIRE ME TO SPEAK AT YOUR EVENT!
ACCESS 'ENOUGHNESS'. POWERFULLY NAVIGATE FEAR. SPEAK UP FOR YOURSELF.
I have three battle-tested (and badass) keynote speeches that are ready to be delivered to your company, organization, group, or association. If you or anyone you know could benefit from me droppin' some gems (um, like, who couldn't use some new tools?) please send them to THIS FANCY INFO PAGE on my site where you/they can message me directly about specific needs.
______
PERKS FOR THE POD-IENCE
This podcast is sponsored by BetterHelp and The Bold-Faced Truth Podcast listeners get 10% off their first month at betterhelp.com/boldtruth or simply enter code boldtruth at checkout. Hello!!
Join the millions of people who have found huge relief and support from BetterHelp therapists and save on your first month while you're at it! Check it out ~>
THIS WEEK'S 'DIAL A NON-EXPERT' GUESTIE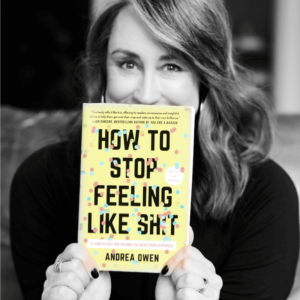 Andrea Owen is an author, global keynote speaker, and professional certified life coach who helps high-achieving women maximize unshakeable confidence, and master resilience. She has taught hundreds of thousands of women tools and strategies to be able to empower themselves to live their most kick-ass life through keynote speaking, her books, coaching, and her wildly popular podcast with close to 4 million downloads.
She is the proud author of three books including the newly updated and expanded How To Stop Feeling Like Shit: 14 Habits That Are Holding You Back From Happiness (Seal Press/Hachette Books) which has been translated into 19 languages and is available in 23 countries. Andrea is a Certified Professional Co-Active Coach (CPCC) from The Coaches Training Institute, a Professional Certified Coach (PCC) with the International Coaching Federation, a SHE RECOVERS® coach, as well as a Certified Daring Way™ Facilitator; a modality based on the research of Dr. Brené Brown.
When she's not juggling her full coaching practice or writing books, Andrea is busy riding her Peloton bike, hanging out with her two teenagers, or making out with her husband, Jason. 
Learn more about Andrea at andreaowen.com and join the fun and wisdom at facebook.com/heyandreaowen and instagram.com/heyandreaowen.
______
ADDITIONAL RESOURCES:
____
How to Leave Apple Podcasts Reviews:
Click the "Subscribe on Apple Podcasts" button below or go HERE
Click on blue button that reads "view in Apple Podcasts" which will open the podcast into your personal Apple Podcasts account
Click "Ratings & Reviews" under the show title
Click the star rating of choice and then click the "Write a Review" button
You can also click "Subscribe" under the podcast photo to be automatically notified of new episodes
______
Want to Submit a Show Topic?
Swing by THIS PAGE and let us hear what you would like us to sound off on!