______
H
Have you noticed how SELF-LOVE is the current hot-button topic for all personal development peeps? Well, there is a reason for that, because… The relationship you have with yourself will permeate every part of your reality and infiltrate all your relationships. In this episode, Amy is joined by Joy Enthusiast and Life Coach, Molly Mahar, as they examine some of the common ways people arrest their love of SELF. They also dig into some super easy tools you can employ to begin flexing the muscle of self-love and acceptance, creating more joy and happiness in every area of your life. If you fight the cruelest battles with yourself, the mirror, or the scale, you must tune-in!
______
NEW *FREE* WORKSHOP
READY TO GET RID OF PERFECTIONISM, SELF-DOUBT, AND OVERWHELM?
OF COURSE, YOU ARE!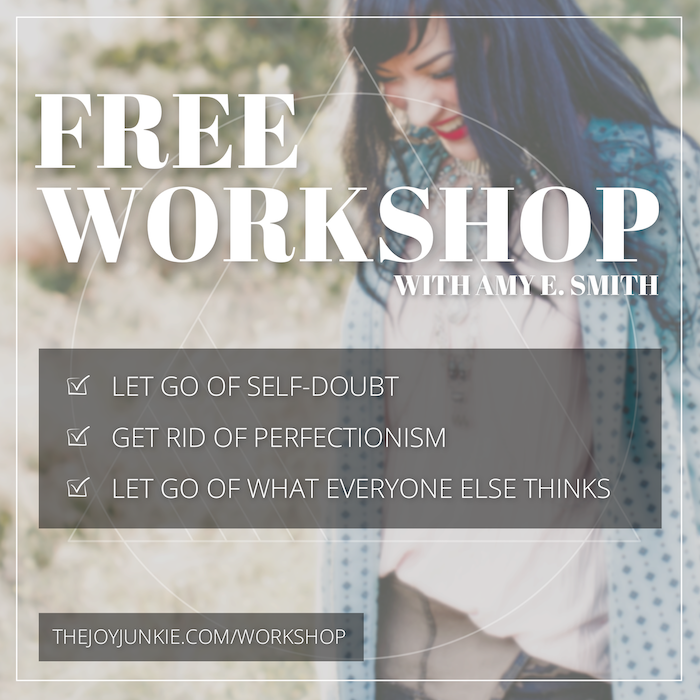 Is this the year you go from a people-pleasing, guilt-tripped perfectionist to a bold and boundaried badass? Um, yeah. I think it is!
If you're DONE feeling overwhelmed, anxious, and stressed out because you're constantly doing, doing, doing for everyone else, then you must grab your seat in this brand-new workshop! You'll learn the exact five-step process I take my clients through so they can let go of all the stress and angst of striving for "perfect" and caring waaaaay too much what everyone else thinks.
It's time to finally believe in yourself, find that self-confidence you crave, and start living your life for YOU. So, clickety-click RIGHT HUURRR or click that image to the right to get on The List! #yourewelcome
______
THE JOY JUNKIE AFTER HOURS CLUB!
COMPLETELY FREE FACEBOOK GROUP. TONS OF SUPPORT YOU CRAVE.
JOIN THE CLUB.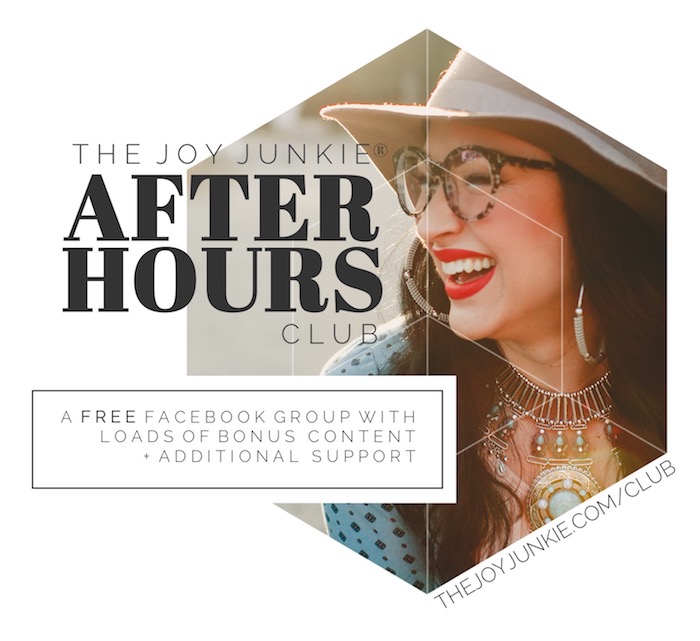 You in on this FREE badassery yet? You are officially invited to my super exclusive/inclusive, [grin] Facebook group, The Joy Junkie After Hours Club!
If you've been diggin' the pod, this group will be an extra dose of support, training vids, discussions, coupon codes, behind the scenes and advice from moi! Plus, it's #totes free and your new soul tribe is waiting for you!
So, clickety-click RIGHT HUURRR or click that image to the right to join the group! #yourewelcome
______
Meet Molly Mahar, this week's Guestie!
Molly Mahar is coach, teacher, community builder and mama. Her fancy titles include Freedom Instigator, Joy Enthusiast and Fierce Love Advocate. She is the founder of Stratejoy, a positive corner of the Internet that provides thousands of women inspiring + useful strategies to create their own joyful world. She's shared her wisdom on creating right fit lives and businesses at SXSW Interactive, the CRAVE Symposium, Problogger, and The Washington Post.
Molly's work is delivered through small group programs, digital courses and high level one-on-one coaching. From the quarterlife crisis to the new mama meltdown, the up-and-coming business babe to the career changer, the newlywed to the newly divorced; she helps gutsy women in transition get clear on who they are, what they want, and how to get it. Some call it reinvention. Molly calls it Activating your Awesome.
______
How to Leave Apple Podcasts Reviews:
Click the "Subscribe on Apple Podcasts" button below or go HERE
Click on blue button that reads "view in Apple Podcasts" which will open the podcast into your personal Apple Podcasts account
Click "Ratings & Reviews" under the show title
Click the star rating of choice and then click the "Write a Review" button
You can also click "Subscribe" under the podcast photo to be automatically notified of new episodes
______
Want to Submit a Show Topic?
Swing by THIS PAGE and let us hear what you would like us to sound off on!
_____________