______
I
If you're like most people on the planet, surely you've had some knock-down, drag-out fights with your own body. Ever feel venomous towards your thighs or ass? Ever find yourself pinching, pulling, and loathing yourself in the mirror? Oh, honey, you are most certainly not alone. Tune in to this pod where Amy is joined by emotional eating expert, Isabel Foxen Duke, and hear them sound off about how to have a healthy self image, no matter what the scale may say. This episode offers tangible wisdom you can implement immediately to being altering your relationship with your body.
______
NEW *FREE* WORKSHOP
READY TO GET RID OF PERFECTIONISM, SELF-DOUBT, AND OVERWHELM?
OF COURSE, YOU ARE!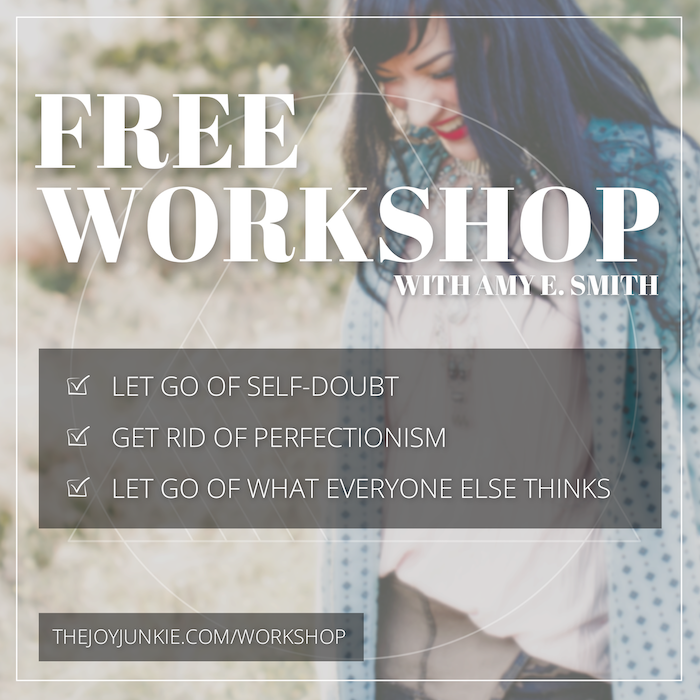 Is this the year you go from a people-pleasing, guilt-tripped perfectionist to a bold and boundaried badass? Um, yeah. I think it is!
If you're DONE feeling overwhelmed, anxious, and stressed out because you're constantly doing, doing, doing for everyone else, then you must grab your seat in this brand-new workshop! You'll learn the exact five-step process I take my clients through so they can let go of all the stress and angst of striving for "perfect" and caring waaaaay too much what everyone else thinks.
It's time to finally believe in yourself, find that self-confidence you crave, and start living your life for YOU. So, clickety-click RIGHT HUURRR or click that image to the right to get on The List! #yourewelcome
______
THE JOY JUNKIE AFTER HOURS CLUB!
COMPLETELY FREE FACEBOOK GROUP. TONS OF SUPPORT YOU CRAVE.
JOIN THE CLUB.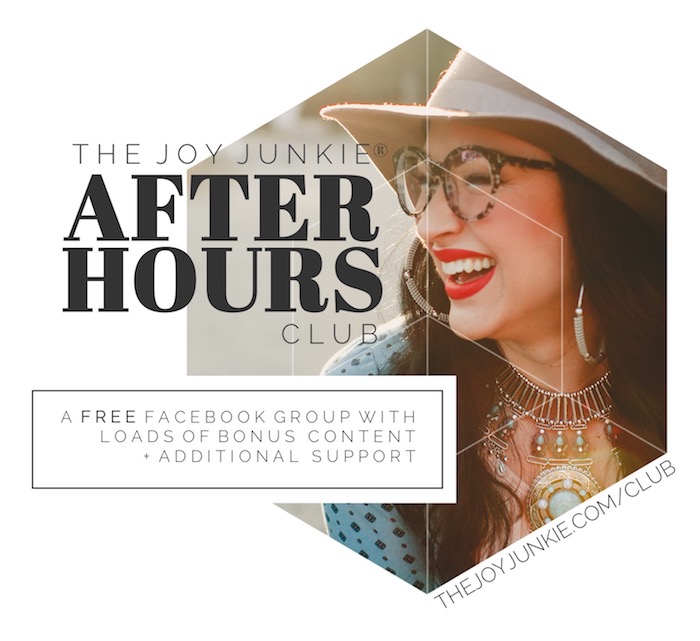 You in on this FREE badassery yet? You are officially invited to my super exclusive/inclusive, [grin] Facebook group, The Joy Junkie After Hours Club!
If you've been diggin' the pod, this group will be an extra dose of support, training vids, discussions, coupon codes, behind the scenes and advice from moi! Plus, it's #totes free and your new soul tribe is waiting for you!
So, clickety-click RIGHT HUURRR or click that image to the right to join the group! #yourewelcome
______
Meet Isabel Foxen Duke, this week's Guestie!
Isabel Foxen Duke helps women stop being crazy about food and weight. She is a certified health coach and emotional eating expert. She teaches women how to make choices around food effortlessly, without obsessing, counting every calorie and/or binge-eating in the middle of the night. She knows that all women can have the lives they dream about (the ones they think they'll get once they're thin enough). For more articles, visit www.IsabelFoxenDuke.com and download How To Not Eat Chocolate Cake.
______
How to Leave Apple Podcasts Reviews:
Click the "Subscribe on Apple Podcasts" button below or go HERE
Click on blue button that reads "view in Apple Podcasts" which will open the podcast into your personal Apple Podcasts account
Click "Ratings & Reviews" under the show title
Click the star rating of choice and then click the "Write a Review" button
You can also click "Subscribe" under the podcast photo to be automatically notified of new episodes
______
Want to Submit a Show Topic?
Swing by THIS PAGE and let us hear what you would like us to sound off on!
_____________